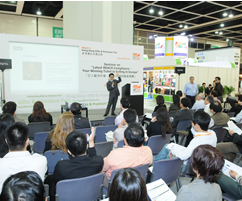 with around 4,000 gift suppliers and gift manufacturers from 34 countries and regions expected to participate
(PRWEB) April 22, 2012
Popular Electronic Products Create Related Premium/Gift Demand
As portable electronic products dominate today's market, their peripherals and accessories are becoming increasingly popular gifts. To meet the trend, this year's fair introduces iAccessories, a new product zone located at Hall 5E with a wide collection of corresponding electronic accessories suppliers. On top of their practical functions, iproducts here are also notable for the most meticulous design details. For instance, Hali-Power Industrial Company Limited, a Chinese electronics manufacturer is launching a superior portable handset charger; iTKOO Tech Limited will display the latest designs of cell phone amplifiers and inature Hong Kong Limited will present its green-designed iPhone case with a detachable battery pack.
Integration of "Green" Elements
Environmental friendliness has become an integral part of people's lives, so more and more gift suppliers and gift manufacturers are attentive to green elements in raw materials and in the manufacturing process of premiums and gifts. For instance, the ECUO Can introduced by Meke Marketing Consultancy Limited, made from a biodegradable Plastic-Lactic-Acid (PLA) material, refined from natural cornstarch, is 100% decomposable, and the product has won the renowned iF Design Award in the Chinese mainland. Stylish handbags made from abandoned banner materials, recycled and collected by social enterprises, are green products offered by C G Concept. While Del Ko Company, another local gift supplier and gift manufacturer, will present an electronic gift entirely composed of strongly recyclable bamboo, and powered by solar energy.
Hong Kong Designer Brands Shine
Medium to high-end products have always had dominance in Hong Kong's gift trade, putting great emphasis on design creativity and branding. The highlighted zone of the fair, The Hall of Fine Designs, assembles design-driven products, as well as premium and gift items from various gift suppliers and gift manufacturers around the region. For instance, Semk Products Limited has successfully created a very marketable, cute cartoon B.duck and introduced different gift product lines including stationery, jewellery, electronic products, and even bathroom and kitchen supplies all with the same theme. Character product ranges which have all been well-received by the market include Chocolate Rain's "girlie" figurine, Fatina; "Panda-a-panda" designed by Siu Hak; and Oowa, created by a promising young local illustrator, Jeanie Leung.
Small Quantity Sourcing Becomes Popular
Global economic uncertainty resulting from the American and European debt crisis has changed traditional sourcing patterns which have become more conservative. In addition, shortened product popularity cycles are affecting buyer behaviour. Buyers now tend to place smaller orders to better manage consumer market demands, reduce inventory and save operation costs. In view of this, HKTDC launches "Small-Order Zone", located at the Expo Drive Entrance. Its aims are to promote small order purchasing, to provide flexibility in purchasing, and to help buyers keep abreast of ever-changing product trends.
The Gift Design Award
Local design talent is important, and HKTDC has given high priority to training young local design talent to introduce innovative design products, manufactured by Hong Kong SMEs. The Hong Kong Exporters' Association has organised "Hong Kong Smart Gifts Design Awards 2012", to motivate and recognize gift suppliers and manufacturers who have engaged in original design & creativity, and help nurture new talents in gifts design industry. Results will be announced and presented at the fair's Networking Reception to be held on 27 April. The winning entries will be exhibited at Hall 5 for global buyers' viewing, together with a product presentation of winning entries on 28 April.
During the fair, a series of seminars will be given in which representatives and experts from different sectors of the industry will explain procurement trends and e-tailing strategies, trendy items and well-being gifts market trends, as well as related product safety standards in the U.S. market. Speakers include Groupon product procurement consultant from Australia, Head of Business Unit from LOG-ON of City Super Group, along with representatives from Russian online retail websites and the U.S. Consumer Product Safety Commission.