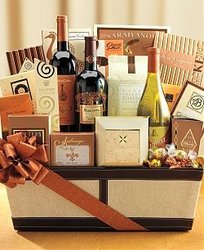 It is fun to see companies copy our general ideas. Imitation is the sincerest form of flattery
Vancouver, Washington (PRWEB) October 17, 2008
GiftTree.com sets the tone for Christmas gifts. The gift basket company introduced their new winter gift collection and unveiled rich metallic colors and classic touches that never go out of style. GiftTree's corporate gifts are laden with bold accents.
GiftTree designers keep color trends and forecasting in mind, but true inspiration comes from real life. It may be a building awning, an antique, or fashionable clothing. Judy Liebe, Director of Design and Product Development states, "We work very hard to get the exact tone, the exact hue."
The richness and depth of the colors are favored by corporate and personal shoppers alike. Corporate buyers are guaranteed a perfect impression and consumers appreciate the elegance and sophistication. Of course, GiftTree's line of holiday gifts wouldn't be complete without a touch of whimsy. For a fun, festive look, GiftTree blends quirky color combinations of pink, teal and lime green in their new Holiday Magic Tower. It's the perfect statement for the contemporary gift giver.
This year, GiftTree has included copper in many of their gift designs, which is expected to be a big hit. The Valencia Wine Gift Basket is a world class gift saturated in copper while the Opus One Gift Basket is a star attraction in earthy, warming hues.
GiftTree is the leader in gift basket design. "It is fun to see companies copy our general ideas. Imitation is the sincerest form of flattery," says Liebe. While traditional bright red and green gift baskets will always have their place for the holidays, GiftTree has fine tuned the art of sophisticated gift giving with elegant colors.
For more information on GiftTree news and products, contact Jennifer Crego.
About GiftTree.com:
GiftTree.com is an online retailer of premium gift baskets, wine gift baskets, unique gifts and flowers. Located in Vancouver, Washington, GiftTree.com successfully strives to offer the highest quality gifts and make the gift giving process easy and pleasant. The GiftTree.com customer service team is available to help customers 24 hours a day.
###