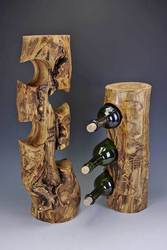 I've sold my wine racks through art shows and galleries over the past four years, and they are always popular gift choices for everything from Valentine's Day, to birthday gifts, to corporate gifts.
Denver, CO (PRWEB) February 5, 2010
According to the Nielsen Company, wine sales increased 6.3 percent in December over the same time period a year ago. As more people become knowledgeable about the different types of wines, and the health benefits many wines may offer, the demand for unique wine gifts will grow too.
Back Woods Art has created a variety of wine racks and accessories that are unique in design, and are a perfect addition to the homes of any wine enthusiast looking for a fun way to display their treasures.
"I'm a self-taught artist, one who would rather be playing outside in the Rocky Mountains than cooped up inside," stated Kendall Vonfeldt, president and creator of Back Woods Art. "My idea came while building my cabin. I knew I had to clear out many dead trees on my property, and thought there must be a way to put these trees to good use. They had served their purpose and were at the end of their natural life cycle – how could I give them even more life?" And the idea of Back Woods Art was conceived.
Back Woods Art takes wine racks to a new level. Each wine rack is hand crafted from one of the many logs she finds on her property and beyond in the Rocky Mountains.
"I hand select every log, looking for uniqueness and unusual characteristics that blend perfectly with a series of wine bottles," stated Vonfeldt. "I'm also part of Colorado Forest Products, a program sponsored by the Colorado State Forest Service that helps build consumer awareness for products produced from wood attained in the Colorado forests. I love being a part of a program that allows me to keep doing what I love, and gives back to help preserve the land that I love."
Back Woods Art creates wine racks in a variety of shapes and sizes. She has customized some to be mounted to the wall, and others to be freestanding on a table, countertop or floor. They are made from a variety of woods, including pine and aspen, and can hold anywhere from 2 bottles to 24 bottles of wine.
As wine continues to grow in popularity, wine accessories are also becoming great gifts for the person who has everything. "I've sold my wine racks through art shows and galleries over the past four years, and they are always popular gift choices for everything from Valentine's Day, to birthday gifts, to corporate gifts," says Vonfeldt. "Now I'm excited to be offering my work through my new website, where people can shop 24/7, and know they will be giving a truly one of a kind gift."
For more information on Back Woods Art, and to view or purchase any of Vonfeldt's custom wine racks, visit http://www.racksfullofwine.com
Contact:
Kendall Vonfeldt
Back Woods Art
http://www.racksfullofwine.com/
720-210-4497
kendall(at)backwoodsart(dot)com
###