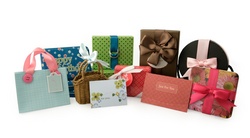 Gift card packaging has grown rapidly as a retail product category over the past few years, and this survey shows that consumer awareness is very high - 88 percent of gift card purchasers are now aware of special packaging
PROVO, Utah (PRWEB) March 24, 2008
"Gift card packaging has grown rapidly as a retail product category over the past few years, and this survey shows that consumer awareness is very high - 88 percent of gift card purchasers are now aware of special packaging," said Eric Child, Seastone President. "Retailers that do not offer gift card packaging are missing a significant revenue opportunity, since consumers are more likely to purchase a gift card if it either comes with free packaging or if packaging is available for purchase."
The highest numbers of consumers are more likely to purchase a gift card if it comes with free packaging (84%), but many are also more likely to buy gift cards if packaging is available for purchase (55%) or if the gift card display includes multiple packaging options (62%).
The most popular format for gift card packaging is a tin box (29%), for which Seastone holds an issued patent. Tin boxes are followed by paper pouches (19%), greeting cards (15%), and stuffed animal (10%) designs. Gift card packaging is most likely to be purchased for a birthday (78%), followed by the December holidays (72%). The trend towards birthday purchases makes a strong case for year-round gift card packaging programs.
The study found that consumers expect gift card packaging to range in price from $1.43 for a paper carrier, $2.48 for a tin box, and up to $3.66 for a stuffed animal. However, a large majority of consumers would spend $5 more on a gift card if it came with free packaging. Therefore, offers such as "free packaging with any gift card purchase of $20 or more" are attractive for consumers.
The results of the 2008 Gift Card Packaging Study come as retailers ramp up for their 2008 year-round and holiday gift card programs. Seastone commissioned the independent survey with The Marketing Workshop to assess the current status of the gift card packaging market. With more than 100 million units shipped in 2007, Seastone is the clear market leader in the fast growing category of gift card packaging, and has established a track record for delivering compelling design, on-time delivery and consumer value.
For a copy of the entire study, email John Pilmer at jpilmer@pilmerpr.com.
About the Study
The 2008 Gift Card Packaging Study, which polled a representative sample of 1,003 adults, was conducted for Seastone by The Marketing Workshop. The survey was performed online from January 22 - 25, 2008 with a margin of error of 1.5 percent.
About Seastone
Seastone (http://www.seastone.com) is the market leader in specialty gift card packages and gift card promotional programs. The company pioneered specialty gift card packaging and offers turnkey gift card promotional programs through its Give-A-Gift(TM) brand. Seastone also provides fully customizable programs utilized by many of the nation's largest retailers, restaurants, banks and mall groups. Additional information about Seastone's Give-A-Gift(TM) brand and customizable programs is available at http://www.seastone.com.