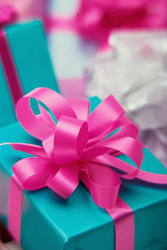 www.surprisegiftforme.com [perfect gift].
(PRWEB) October 12, 2009

Dover, DE Anyone looking to add a little excitement and surprise to their life won't need to look any further than Surprisegiftforme.com. There's no longer a need to wait for someone else to buy that special gift.
At Surprisegiftforme.com people can choose any special day that they would like to have a surprise gift sent to them. The gift will be secretly chosen from a personal wish list which they create. The concierge gift service selects one gift from the list, buys it, wraps it and then ships it out. The person won't know which of the five gifts is sent till it's opened. It's always the " perfect gift."
Surprisegiftforme.com is on a mission to bring back the thrill of receiving surprise gifts. A portion of all proceeds is donated to the Toys for Tots Foundation.
For more information about surprisegiftforme.com, or to order a surprise gift, visit http://www.surprisegiftforme.com.
Contact Information
Diane Frebert
surprisegiftforme.com
302 242-0302
###