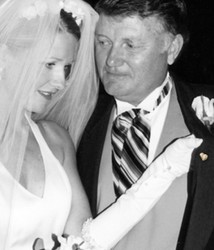 Based on the increasing number of brides purchasing the Loving Heart™ Pin, it is possible that a new trend is emerging for brides to give a sentimental gift to the father of the bride on the wedding day." Jean Schnaak, Loving Heart, LLC
Cary, NC (PRWEB) April 21, 2010
Spring weddings are in the air! Months of preparations are nearing perfect execution. For the bride, the little details make her wedding day truly reflect the woman she has become. Keenly aware of the people who have surrounded, loved and supported her to reach this pivotal point in her life, it is to these people she will want to express her love and gratitude.
While it is customary for the bride and groom to present gifts of sentimental value to their bridesmaids and groomsmen, for the past sixteen years Loving Heart™ jewelry designer Jean Schnaak has been instrumental in creating what could prove to be a new bridal trend, the giving of the Loving Heart™ Pin to the father of the bride by his daughter on her wedding day.
As Founder of Loving Heart, LLC, a company dedicated to helping people express their love to others through gifts of heart jewelry accompanied by verses, Jean Schnaak speaks out that the wedding day is the perfect occasion for a bride to express to her father her love, appreciation and gratitude for all he has done for her through the years.
"Traditionally the father of the bride contributes little to the planning of the wedding, but much to the bottom line. He is depended upon to accompany the bride down the aisle and to publically acknowledge that he is no longer the number one man in his daughter's life. For the father of the bride, the wedding day though filled with celebration, is often bittersweet," Jean Schnaak goes on to say. "For quite some time, I have recommended my very first jewelry design, the Loving Heart™ Pin as a perfect sentimental gift for the father of the bride." Based on the increasing number of brides purchasing the Loving Heart™ Pin, it is possible that a new trend is emerging for brides to privately honor their father on the wedding day. "I feel like celebrating!" Jean Schnaak announces.
"Remember Steve Martin's character, George Banks, in the movie Father of the Bride?" asks Schnaak. "After all the months of planning and paying for his daughter's wedding, he simply yearned for a private moment on the day of the wedding to be with his daughter. A bride presenting the Loving Heart™ Pin and sentimental verse card to her dad, whose heart is so full, satisfies that longed-for moment." After the wedding day, whether the father of the bride wears the Loving Heart™ Pin inside his business suit coat or his favorite knock-around jacket, he will be reminded of his daughter's love for him and the special bond they share.
In 1994, while enjoying a very rewarding career in nursing, Jean Cotten Schnaak created what was to become the first Loving Heart™ Pin as a gift for her husband, Neil. Sixteen years later, Loving Heart™ Pin continues to be the only gift of fine jewelry for men, designed to be worn discreetly on the inside breast-pocket of a jacket over a man's heart.
A gift for the father of the bride is rarely suggested in wedding planning guides, and can be even more difficult to find. "It takes more than a pretty website to introduce to brides the idea of creating a tender moment with their dad on the wedding day," states Jean Schnaak. She attributes increasing sales to the rise of social media, and the popularity of theKnot.com, Facebook Fans, Twitter, bloggers and customer referrals.
Mrs. Schnaak volunteers, "Many brides personally thank me for creating a keepsake quality, sentimental gift for the father of the bride. They also thank me for suggesting such a beautiful wedding day gift giving moment. Their stories fill me with joy and a sense that what I do to help people express their love matters." Customer testimonials from all over the world can be viewed on the company website: http://www.LovingHeartCollection.com.
What started out as a simple heart pin created as a gift to her husband in 1994, is now an award winning collection of fine heart jewelry, with verses translated into nine languages and available worldwide. It seems that with gifts from The Loving Heart Collection by Jean Schnaak® circling the globe, the language of love knows no boundaries.
"I am passionate about creating sentimental gifts of fine heart jewelry to help people express to those who are special in their life, 'I love you and I care about you -- every day'," says Jean Schnaak. Her advice to brides, "Don't forget the first man in your life on your wedding day -- your dad."
Go to the http://www.LovingHeartCollection.com to discover the Loving Heart™ wedding day scenario for a bride and her father. The Loving Heart™ Pin, created in both sterling silver and14k gold, may be personalize with the bride's birthstone. The Loving Heart™ verse card, "On this special day, one we will never forget, just remember I'll always love you"© is available in English, French, German, Italian, Norwegian, Danish, Portuguese, Chinese and Spanish. Prices range from $50 - $700. USD
Loving Heart LLC
Founded by Jean Cotten Schnaak in 1995, Loving Heart, LLC is dedicated to making the world a better place, one relationship at a time. The company specializes in helping people express their love to others through gifts of fine jewelry and verses designed by Jean Cotten Schnaak. Loving Heart™ gifts fill a unique niche--- they help customers express with verses what they feel in their hearts -- "I love you" -- in a simple, sentimental way.
Gifts of fine jewelry from The Loving Heart Collection by Jean Schnaak® are available exclusively through the company's e-boutique: http://www.LovingHeartCollection.com.
# # #