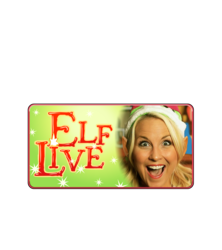 "Thousands of families every day are connecting live with the North Pole at ElfLive.com... It's fun and free!"
Elkhorn, NE (PRWEB) December 04, 2012
Every year before Santa gets on his sleigh, he needs to know what gifts to deliver. Now kids can tell him by chatting live with one of his very entertaining elves online. There is no cost or log in required. To speak to the elves kids simply head to ElfLIve.com.
Simply by typing their message to an elf – children can see the elves respond to their holiday wish list, and be entertained by light-hearted, kid-friendly Christmas fun. Virtual holiday games are also available.
"Thousands of families every day are connecting live with the North Pole. The elves have been busy and children the world over are delighted - especially at the fact that the elf can call them by name if that information is provided in typing their wish list. It's a lively holiday experience that kids will remember for a long time to come. We're excited to partner with Fat Brain Toys, one of the nations best online toy retailers, to help Santa's Workshop go 2.0," says Ranjy Thomas, CEO of Fraboom.com.
"We're leading by example and going paperless," says Santa Claus. "Of course, it's still wonderful to receive the handwritten letters of kids, though as they become more busy with activities and schedules – I don't often hear from them. Modern-day internet makes it easy for children to share their wishes, and my elves get to be a part of the fun too!"
The elves are live Monday-Saturday as a FREE, after-school experience from now until Christmas Eve at ElfLive.com.
Media and special Blog community interviews with Santa's Elves can be arranged daily. Contact jenee (at) flyingrhino (dot) com with your ideal date and time. Please include any deadline expectations.
Fat Brain Toys is now the second largest specialty toy retailer. The company owns and operates a retail store in Omaha, Nebraska, publishes a mail order catalog which is distributed to millions of households nationwide and creates and distributes an award-winning line of more than 50 toys, games and puzzles created right in Elkhorn, NE.
For More Information on Fat Brain Toys
http://www.fatbraintoys.com/about_us/presskit.pdf
Award winning Fraboom.com is the world's first online children's museum offering daily, live interactive learning experiences. A Fraboom Annual Membership is one of 2012's most innovative gifts for kids ages 6-12. Flying Rhinoceros, the makers of Fraboom.com are located in Portland, OR.
# # #