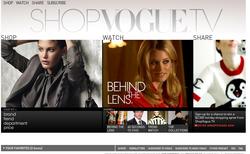 Think color and don't be afraid to play with stones
New York, NY (PRWEB) December 11, 2007
No need to battle the shopping crowds when you can tune in to ShopVogue.TV for gift ideas and festive attire for the holidays. Whether creating your own wish list, or buying for others, ShopVogue.TV has done all of the work -- all you need to do is go online, sit back, watch and shop! Top editors at Vogue chime in with their gift suggestions, mixing luxury, style and affordability for fashion, beauty and the home. Go directly to the luxury gift guide episode at http://www.shopvogue.tv/#Watch/4/114
Gift ideas include:
CASHMERE
"Cashmere is the ultimate gift," says Sarah Brown, Director of Beauty at Vogue.

For supreme luxury at an affordable price, Anne Taylor cashmere sweaters come in every color and are the perfect holiday gift idea (starting at $118).
HOME
"Gifts for the home are a lovely way to give something that feels personal because it's a way of saying that you've been to their home and have thought about their surroundings," says Vogue's Senior Market Editor, Meredith Melling Burke.
Chez Moi Fragrance Diffuser for the home ($250) to keep your rooms perfumed and decadent. A seductive alliance of technology, design and poetry!
Art Books! Choose from "CFDA's American Fashion" or "Ralph Lauren's 40th Anniversary book" ($40-135).
Barney's exclusive line of glass blown ornaments (starting at $30) helps decorate the season.
JEWELRY
This season, "Think color and don't be afraid to play with stones," says Filipa Fino, Senior Accessories Editor at Vogue.
H. Stern jewelry ($2,700 - $11,500) is a luxury splurge if you are shopping for baubles and bling.
BEAUTY

Skincare known for its elegant formulations and textures? Sign us up!
Clé de Peau la crème beauty products ($500)
GIVE FOR A CAUSE

A pair of Tom's Shoes ($28-48) "is a gift that never stops," says Filipa Fino. For every shoe that is purchased, Tom's Shoes donates a pair to a child in need.
Contact:
Stefanie Adlerstein
Vogue
Stefanie_Adlerstein @ condenast.com
###