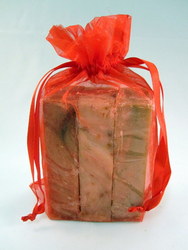 Customers often write to tell us how our fragrant Goat Milk Stuff soaps and lotions moisturize their skin and soothe their rough hands and feet
Charlestown, IN (Vocus) October 21, 2010
As Gift Guides recommend giving presents from clothes to electronics, Goat Milk Stuff™ announced homemade, all-natural Gift Pack alternatives featuring goat milk soaps, lotions, and bath bombs sets that are elegantly presented in colorful organza bags.
"Giving a special gift which shows you care is important to both those who give and to those who receive. Our goat milk soap products naturally pamper your skin and make for unique and thoughtful presents," said PJ Jonas, co-founder of the family-run Goat Milk Stuff.
Available at http://www.GoatMilkStuff.com, several types of Goat Milk Stuff Gift Packs are available in different scent themes as well as in matching fragrances. Gift packs that are available in organza bags for $10 each include:

Bath Gift Pack with a large 5-ounce goat milk soap bar and two bath bombs in a matching scent
Floral Gift Pack containing half bars of lilac, honeysuckle and rose scented goat milk soaps
Christmas Gift Pack of half bars of peppermint, cranberry spice and evergreen scented goat milk soaps
Purity Gift Pack with half bars of purity, purity scrub and organic castile unscented goat milk soaps
Garden Gift Pack featuring half bars of rosemary mint, lavender and cucumber melon scented goat milk soaps
Cozy Gift Pack with popular half bars of oatmeal, milk & honey scrub, cider press and pink sugary scented goat milk soaps
Down Under Gift Pack of half bars of tea tree, nautical and kool koala scented goat milk soaps
Earthy Gift Pack has half bars of patchouli, sandalwood and dragon blood scented goat milk soaps
Fresh Gift Pack contains half bars of ocean, clean cotton and cool citrus basil scented goat milk soaps
Also, Customized GMS Gift Packs of three half bars, packaged in an organza bag are priced at $12 and offer you the flexibility of choosing scents as well as the color of the bag.
Also available are Twin-Pack Gift Sets that have a 5-ounce bar of GMS goat milk soap and a GMS solid body lotion in the matching scent. Choose from more than ten popular scents each priced at $12.
"Customers often write to tell us how our fragrant Goat Milk Stuff soaps and lotions moisturize their skin and soothe their rough hands and feet," said PJ, a mom of eight young children, aged 3 to 13. The children all support the business by helping with chores. Sisters Brett, Indigo and Jade often help to bag soap, while brothers Colter, Emery, Fletcher, Greyden and Hewitt milk and care for the goats.
She said, "It was basically a mom's concern that started the Jonas family on this path. I began making goat milk soap for my children's use, and then for friends and relatives. As the popularity of the soap grew, we begin to market it at local fairs and now we sell Goat Milk Stuff products in all 50 states in America as well as to customers abroad."
PJ Jonas said, "We use our own real goat milk to make every bar of soap in our Gift Packs. The goat milk adds a moisturizing quality to the soap that isn't found in soaps made with just water. While commercial soaps and body lotions may get you clean and provide temporary moisturizing, our all-natural Goat Milk Stuff soap and lotion moisturizes your skin, leaving it feeling smooth and soft for long periods of time."
Jim Jonas added, "Goat Milk Stuff™ is reflective of what we feel is the great American entrepreneurial spirit in action. We produce excellent goat milk soap products and sell them at reasonable prices. We only make products that we would use in our family."
Goat Milk Stuff™ is based in Charlestown, Indiana, and markets natural goat milk soaps. Goat Milk Stuff™, the family company co-founded by PJ and Jim Jonas, offers a range of goat milk soap products online at http://www.GoatMilkStuff.com, as well as through specialty stores across the nation. Goat Milk Stuff™ and GMS™ are trademarked brands and assure the finest quality of product and value. Goat Milk Stuff™ Goat Milk Soap, GMS Lip Balm, GMS Lotions, GMS Bath Bombs, GMS Shaving Soaps and GMS Laundry products are environmentally friendly and produced, marketed and priced responsibly to offer consumers the finest Goat Milk Soaps and related bath products in America.
Online at http://www.GoatMilkStuff.com, the Jonas' company markets a full range of products that are quickly shipped directly to consumers. The Goat Milk Stuff™ website also lists retail stores across America where shoppers can find Goat Milk Stuff™ products. Media contact is Brian Dobson at DobsonPR.com or bd (at) dobsonpr (dot) com.
# # #