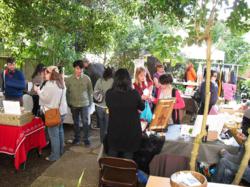 We're honored to have won this award, especially since we've only been open for 10 months.
(Vocus/PRWEB) June 07, 2011
Urban Bazaar, a handcrafted gift shop in San Francisco's Inner Sunset District, was voted "Best Boutique" in the SF Weekly Best of 2011 Reader's Poll. To celebrate, they will hold a party on Saturday June 11th from 5-10pm. The party will include an art show and sale featuring San Francisco inspired pieces, free pizza from Little Star, the winner of "Best Pizza in San Francisco," and local beer and wine.
To thank San Francisco and all those who helped Urban Bazaar win "Best Boutique" in the SF Weekly Reader's Poll, the unique San Francisco handcrafted gift shop is throwing a party on Saturday June 11th from 5-10pm. "Urban Bazaar's San Francisco Shindig" will include a local art show from 5-9pm, with pieces for sale at special discounted rates from 6 local artists:

Rick Kitagawa of Monkey & Seal, with San Francisco themed apparel
Samantha Barsky of Note.ify, with San Francisco greeting cards & prints
Heather Logsdon of Heathered, with San Francisco map and Muni Fastpass wallets
Charlie Corriea, with pen and ink drawings of San Francisco neighborhoods
Nina Kulick of Gooseberry Press, with San Francisco cards and tote bags
Nidhi Chanani of Small Hand Design, with prints of San Francisco inspired illustrations
There will also be free pizza from Little Star, winner of "Best Pizza," and free wine and beer from local sources.
"We're honored to have won this award, especially since we've only been open for 10 months now," says owner Briana Bers. "People are really starting to take notice of the great community we're building at Urban Bazaar, and we want to give back in a fun way. So we're throwing a big party to thank San Francisco for voting for us, and will be offering one-night-only discounts and free food and drinks."
Urban Bazaar, which carries handcrafted accessories, jewelry, and home décor gifts from more than 90 local and US artists, as well as Fair Trade gifts from around the world, was opened on July 22nd 2010 by Briana Bers and Brandi Chalker. Their mission is to inspire people to support artisans at home and abroad by purchasing handcrafted, Fair Trade, and locally made gifts instead of products that are imported from dubious and often exploitative factories abroad.
The store's owners also hope to add to the local art scene in San Francisco by creating a community space for artists and craftspeople. They hold a free craft night each month, offer craft workshops on a bi-monthly basis, and host the Vagabond Indie Craft Fair in their back garden 3 times a year.
"Winning this award is further proof that San Francisco is such a great place to live," says Urban Bazaar co-owner Brandi Chalker.
"People could have voted for a posh boutique with overpriced, imported goods made in factories in China- but instead, they voted for a store that has low prices, and where the products are hand-made by real people that aren't being exploited for their labor. It's inspiring to know that so many people are conscious of how their spending affects the world, and are supportive of making positive choices."
Urban Bazaar's San Francisco Shindig is open to the public and free to attend. Contact Urban Bazaar at 415.664.4422 for more information.
About Urban Bazaar
Urban Bazaar, opened in July 2010, is an independent San Francisco gift shop specializing in Fair Trade and locally handmade gifts. Their mission is to provide customers with creative, high quality, handcrafted goods that are affordable, eye catching, ethically sourced, and eco-friendly. Located at 1371 9th Ave (between Judah and Irving Streets), hours are Tuesday-Saturday 11-7pm and Sunday 10:30-5:30pm.
# # #