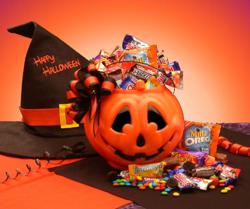 California (PRWEB) October 27, 2012
Halloween is notorious for two things: candy and putting creativity to the test. Rather than spending money on haunted hayrides and fright fests, a national trend of creating the ultimate at-home Halloween experience for trick-or-treaters is emerging. The National Retail Federation estimates the average American household will spend an anywhere from $44 to $60 on candy for Halloween in 2012. Taking note of this shift America's leading online gift basket retailer, GiftBasketsPlus.com, analyzed the latest candy crazes and at-home Halloween thrills to shed new light on the old tradition of passing out candy.
As the premier holiday gift basket supplier with fourteen years in the gift basket industry, it comes as no surprise that GiftBasketsPlus.com is taking this opportunity to revolutionize the Halloween candy routine. With consumers and businesses alike raving about the latest collection of Halloween gift baskets, GiftBasketsPlus.com combined their market knowledge and customer feedback to develop additional, affordable, spooky-sweet, Halloween gift baskets.
The newest designs are best suited for the creative at-home Halloween haunters who are looking to give trick-or-treaters an unforgettable experience. GiftBasketsPlus.com worked diligently to create gift baskets that appeal to a wide variety of taste buds by incorporating candy classics like Resses Peanut Butter Cups, M&M's, Oreo's, as well as gourmet options like Ghirardelli chocolates.
GiftBasketsPlus.com is offering generous online discounts for customers on these Halloween gift baskets until October 31. Additionally, GiftBasketsPlus.com launched several new social components to help shoppers find this year's best gift baskets for any occasion. Most recently, GiftBasketsPlus.com has joined the Pinterest movement and features boards pinned with special Halloween & Holiday Gift Baskets for users to repin, share, or purchase.
For additional information on this year's hottest Halloween Gift Baskets, visit http://www.giftbasketsplus.com.