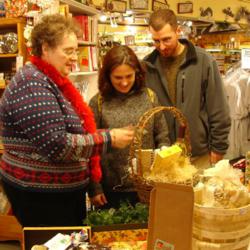 We invite visitors to be creative in their basket ideas. Regional products from local breweries or a special item from one of our museum shops
Fly Creek, NY (PRWEB) September 29, 2011
Fly Creek Cider Mill & Orchard will hold its annual Gift Basketing Workshop Saturday and Sunday, December 3 and 4 from 10:00 until 4:00. Mill Gift Basket experts will be on hand to provide their skills in creating a memorable gift. Workshop participants, Basketeers, are encouraged to bring their own basket or box to the Mill and then select items from the Mill's wide array of Pride of New York specialty foods. Basketeers may also bring along items from other local sources so as to personalize a regional basket that will remind someone of home. "We invite visitors to be creative in their basket ideas. Regional products from local breweries or a special item from one of our museum shops plus some flavorful Fly Creek Cider Mill products will produce a gift that says a lot about all the flavors of the Cooperstown area," says Bill Michaels, co-owner of the Mill.
During the workshop Basketeers can sample hot holiday wassail plus learn how to make it at home with delicious Fly Creek Cider Mill Cider. Wassailing Weekends continue through December 18th when the Mill closes for its 155th season. The workshop cost is limited to only the items purchased and registration is not required. The Mill also offers create-your-own baskets at their On-Line Store.
The Mill is open daily 9:00 – 6:00 and is located three miles from Cooperstown and 24 miles south of Herkimer. The Fly Creek Cider Mill will re-open for its 156th season next spring on March 30th. The On-Line Store is open all year.
For more information on other holiday activities and some money-saving coupons visit their website or call the Mill toll-free 800-505-6455.
###