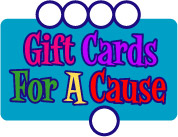 By making a change in purchasing habits (and buying your gift cards through Gift Cards for a Cause), you too can become a superhero - Michael Farrell, In-Vest USA Development Director
Charlotte, NC (PRWEB) December 19, 2012
Gift Cards for a Cause (GCFC), a philanthropic company that allows consumers to purchase their favorite retail gift cards that give back up to 40% of the gift card value to a charity of their choice, is happy to announce six new nonprofit partnerships.
Gift Cards For A Cause's community partners encompass a wide range of social service, health, educational, environmental, and animal rights organizations. Welcome to the following new nonprofit organizations, who have recently incorporated Gift Cards for a Cause into their fundraising strategy.

Del Mar PTA, San Jose, CA – Raising money to fund a safe and sober graduation night party and program for graduating seniors from Del Mar High School.
The Gift of a Helping Hand, Detroit, MI – Programs serve economically disadvantaged children, families, individuals, seniors, and victims of domestic and child abuse in distressed communities in southeastern Michigan. Also, currently undertaking a $50,000 Building Fund Campaign.
In-Vest USA, Columbia, SC – National organization with a simple, yet important mission: "Protect Those Who Protect Us." They are working to provide every law enforcement officer in America a bullet-proof vest. These vests cost $700 each and should be replaced every 5 years. This often goes unfulfilled or is left up to the officer in many smaller agencies.
Patrick Beaver Learning Center, Hickory, NC – Programs serve individuals with learning differences, ADHD and dyslexia, their families, and the professionals who support them. They are working to increase community awareness of learning differences and promote educational and personal success of those affected by them in the four county areas north of Charlotte, NC.
Turner 12, Dallas, TX – Less than 65% of kids in the neighborhoods served graduate high school, and less than 10% continue on with any higher education. Through mentoring, community involvement, higher learning opportunities, and life-changing experiences, Turner 12 provides funding, resources, and a rigorous 8 year curriculum through high school and college to ensure these kids become productive citizens and first generation college attendees and graduates. Two classes of 12, 2005 and 2011, have successfully completed this program.
These new community partners are excited to explore the fundraising opportunities offered to nonprofits through the Gift Cards for a Cause program.
According to Renee Jackson-Smith, Director of Operations at Turner 12, "Our supporters can purchase the gift cards through a link on our website, which takes them to a splash page designed specifically for Turner 12. We also purchased gift cards as holiday gifts for our students. Our agency got a percentage back of what we spent, and that really saved us money. Gift Cards for a Cause is also easy to work with. Setting up and using to program was quite simple."
Patrick Beaver Learning Center Director, Joyce Steelman remarked that "As a small nonprofit, we know the value of collaboration and of being part of a larger team. That's why we know Gift Cards for a Cause will play a significant role in our fundraising: it promotes community and creativity in a time when providing for the operation of a nonprofit requires just that."
Michael Farrell, In-Vest USA Development Director states that "By making a change in purchasing habits (and buying your gift cards through Gift Cards for a Cause), you too can become a super hero and help stop a speeding bullet for one of our brave law enforcement officers."
Charitable giving is important around the holidays, as well as throughout the year. Make gift cards from Gift Cards for a Cause the place for all your gift card needs year round. To give back to these nonprofit organizations and other Gift Cards for a Cause partners, please visit the "Who We Support Page" at http://www.GiftCardsForACause.com. Stay connected on with Gift Cards for a Cause on Facebook, and follow us on Twitter @GiftCards4Cause.
###
About Gift Cards for a Cause:
Headquartered in Cornelius, NC, the mission of Gift Cards for a Cause is to help raise money for worthy causes across the globe by providing nonprofit organizations, individuals, and corporations a way to support their favorite philanthropic organizations through everyday shopping. Every time a gift card is purchased, donations go to the purchaser's charitable organization of choice.