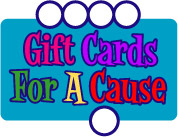 The immediacy of delivery makes purchasing E-cards easy and using them, fast and convenient
Charlotte, NC (PRWEB) January 31, 2013
The beginning of the year is a busy time and many consumers allow Valentine's Day to sneak up unexpectedly. There is good news, not just for Valentine's Day shoppers, but for everyone! Gift Cards for a Cause(GCFC), a leading national philanthropic company is now offering over 40 retail gift cards via E-Card Simply order gift cards from Gift Cards for a Cause, once processed and verified, GCFC will send an E-Card that will be received via email within hours. As with all gift cards from Gift Cards for a Cause, these E-Cards will give back up to 40% of the gift card value to a favorite charity or non-profit organization.
Purchasers can decide in the morning to go shopping, buy a gift card from GCFC, and shop that afternoon, either online or at the retail store. Planning a meaningful evening out while giving back is another great option. One can choose a restaurant in the afternoon, and have the E-Card to use for dinner, all while giving back to a favorite non-profit organization. Valentine E-Cards are still available from 1800flowers.com, Spafinder.com, as well from several restaurants, specialty and jewelry stores.
There are even travel E-Cards available at Gift Cards for a Cause. Multiple options are available to help book a flight, hotel, rental car, or cruise. Figure out the cost, visit Gift Cards for a Cause, and within hours, receive the E-Cards to pay for that get-a-way. This is another fantastic opportunity to be philanthropic and give back to a favorite charity or non-profit.
According to Donna Chrobak, Founder of Gift Cards for a Cause, "We are so pleased to offer E-Cards that give back. The immediacy of delivery makes purchasing E-cards easy and using them, fast and convenient. And, we'll be adding more E-card options soon. Within the next 60 days we hope to double the number of retailers offering E-cards."
Because of gift cards purchased at Gift Cards for a Cause, non-profit donation partners are able to
provide services, outreach, and advocacy to children and adults with chronic and terminal illnesses. Organizations can foster education, training, and mentoring opportunities to economically disadvantaged youth, provide aid to displaced workers, enhance mental health outreach and support, and impact animal advocacy, just to name a few.
Gift Cards for a Cause has made it easier to give back and receive popular gift cards, within hours. The process is still as easy as it has always been. Simply go to the Gift Cards for a Cause website, make the gift card selections, and choose a favorite nonprofit organization to support.
About Gift Cards for a Cause
Headquartered in Cornelius, NC, the mission of Gift Cards for a Cause is to help raise money for worthy causes across the, globe by providing nonprofit organizations individuals, and corporations a way to support their favorite philanthropic organizations through everyday shopping. Every time an order is placed, donations go to the purchaser's favorite charitable organization or school. All organizations that receive donations have been certified by the IRS as legitimate 501(c)3 nonprofit organizations. Please take the time to visit us at http://www.GiftCardsForACause.com and stay connected with us on Facebook.