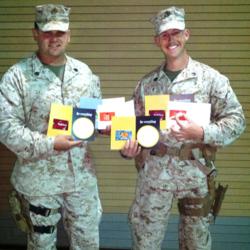 Often, however, civilians don't know how they can support our military families or understand how a small gesture like a video or gift card saying 'Thank You' can have a huge impact.
Kansas City, MO (PRWEB) May 22, 2013
Gift Card Impressions and military support charity, Operation Gratitude, invite you to join them in honoring military personnel June 27-July 4.
"We are encouraging all U.S. citizens, as a symbol of unity, to think about those who are sacrificing for our freedoms, and to honor the current and former members of the U.S. Armed Forces during this patriotic time of year," said Gift Card Impressions CEO and President, Brett Glass. "I recognize freedom as one of my greatest blessings and believe that as a country we owe a great debt of gratitude to the men and women of our Military. We wanted to provide Americans with a tangible way to show their support and Gift Card Week was born. This tribute will mean so much to so many who have served our country."
Those interested in participating are encouraged to visit giftcardweek.com and purchase a gift card from leading retailers and restaurants for a friend, family member or neighbor who has served our country. Those who may not have an immediate military connection can also purchase a gift card to be included in an Operation Gratitude care package. As part of Gift Card Week, in addition to one hundred percent of the value of the purchased Gift Card benefiting someone in the military, Gift Card Impressions will donate two percent of the total value of all gift cards sold from June 13 – July 11 to Operation Gratitude.
Perhaps the most touching aspect of this campaign is the customizable Military Appreciation Video that will be available to consumers to send for FREE during Gift Card Week (regularly a $1.99 value), to let a special service member know that a gift of thanks is on its way.
"Americans care about our service men and women and want to express their gratitude. Often, however, civilians don't know how they can support our military families or understand how a small gesture like a video or gift card saying 'Thank You' can have a huge impact," said Operation Gratitude founder, Carolyn Blashek. "That's why Gift Card Week is an important effort that provides everyone, anywhere in the country, a meaningful way to recognize and honor America's heroes and their families."
John Adams, formerly an active duty captain in the United States Marine Corps and currently the Director of Strategic Operations for Operation Gratitude, knows first-hand the difference even the smallest recognition can make.
Adams first encountered Operation Gratitude near the Pakistan-Afghanistan border during his first deployment in support of Operation Enduring Freedom. After returning to his patrol base after a long, stressful patrol, his entire squad unexpectedly received care packages from Operation Gratitude.
"We each received individually addressed care packages that contained food, hygiene products, entertainment items and hand-written letters. The love and support we felt from people back home and Operation Gratitude bolstered our morale and emboldened our mission," said Adams.
"To feel that your sacrifice is recognized is extremely gratifying. Just to know that people understand and appreciate what you do for love of country, makes your personal sacrifice worth it," said Adams.
Gift Card Week is sponsored by Gift Card Impressions, the Retail Gift Card Association, and Ceridian Stored Value Solutions.
About Gift Card Impressions
Gift Card Impressions is a Kansas City based company focused on delivering strategic development, agency creative and packaging solutions to the gift card industry. Clients of Gift Card Impressions include most major retailers and most major gift card brands. The company provides leading product solutions for both physical and digital gift card delivery, and its solutions make the gift-giving occasion more memorable and personalized by using the latest technologies. The company has more than 69 patents pending or issued, and 56 trademarks issued or applied for. Gift Card Impressions is Bringing the "Gift" Back to Gift Cards™. For more information, please visit http://www.giftcardimpressions.com.
About Operation Gratitude
Operation Gratitude annually sends 100,000+ care packages filled with snacks, toiletries, entertainment and hand-made items, plus personal letters of appreciation addressed to individually named U.S. Service Members deployed in harm's way, to their Children left behind, and to Veterans, First Responders, Wounded Warriors and their Care Givers. Their mission is to lift morale, bring a smile to a service member's face and express to Military and their families the appreciation and support of the American people. Operation Gratitude receives the names of Soldiers, Sailors, Airmen and Marines from commanders in the field who see the positive impact of care packages on their troops' morale. Each package contains donated product valued at $75-100 and costs the organization $15 to assemble and ship. For safety and security, assembling of packages occurs at the Army National Guard armory in Van Nuys, California. Since its inception in 2003, Operation Gratitude has shipped more than 955,000 packages to American Military and their families. For more information, please visit http://operationgratitude.com.
About The Retail Gift Card Association
The Retail Gift Card Association (RGCA) is a trade group whose mission is to promote the positive attributes of closed loop gift cards. The RGCA believes that educating consumers, retailers, media and legislative groups about the difference in prepaid products is paramount to ensuring a positive gifting experience. RGCA members abide by a code of principles, which support consumer-friendly policies around the purchase, and redemption, of closed loop gift cards. RGCA membership is open to retailers, restaurants and travel-and-entertainment merchants whose primary revenue is not derived from gift cards. For more information, visit us at http://www.theRGCA.org.
About Ceridian Stored Value Solutions (SVS)
With more than two decades of experience, SVS is a prepaid pioneer and innovator, executing successful programs for top brands around the world. As a global prepaid leader, SVS manages over 600 million card products and processes billions of transactions from over 45 countries and in 26 currencies. To learn more about how we help our clients increase their bottom line with the most effective gift card and prepaid solutions on the market, visit us at http://storedvalue.com.