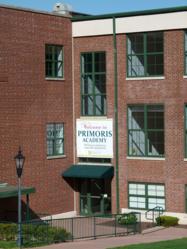 Gifted children acquire knowledge at a much faster pace than other children their age. Subsequently, mistakes are often made when accommodating them in 'standard' school classes.
Westwood, NJ (PRWEB) May 21, 2013
A school exclusively for gifted and talented children is opening for the 2013-14 school year. Primoris Academy, located at 120 Washington Avenue in Westwood, is now taking new student applications for 4 through 12-year-olds performing up to a 12th grade level ability.
There are several things that often make Primoris Academy different than other programs for gifted children. Most notably, Primoris Academy is a full-day school program. Most gifted children in our area are taught in a public or private school and are supplemented with occasional accelerated classes and after-school programs. Primoris Academy's education program is not divided based on their chronological age but divided according to their ability. This enables the school to better provide individualized attention if there is a student who has greater need. According to school founder Katie Kim, "We strive to provide profoundly bright young children an advanced educational opportunity matched to their abilities, strengths, and interests."
Katie Kim recognized the need for a school like Primoris Academy over ten years ago. She is a mother of two gifted children. When her children were young, she realized that the regular school system was inadequate and could not provide any enrichment or other services for her gifted children. Currently, there is no other school in Bergen County solely for educating gifted children.
Katie was quick to point out mistakes commonly made in other schools when dealing with gifted children. "Gifted children acquire knowledge at a much faster pace than other children their age. Subsequently, mistakes are made when accommodating them in standard classes." she said. "Sometimes, gifted children are asked to tutor other children in the classroom. Other times, they are 'rewarded' by finishing work early by giving them more work." Katie continued, "Another mistake some educators make is not allowing gifted children to proceed to the next level of work until they have achieved 100 percent accuracy. This is unrealistic and unfair for any child." She pointed out that these mistakes mostly occur through the process of attempting to educate gifted children through exception rather than through exceptional teaching methods.
Primoris Academy is an independent, not-for-profit school where teacher to student ratios do not exceed 12:1. Applications for this coming school year can be downloaded now from their website. An assessment for giftedness is required for acceptance. The school can recommend several centers that can test a child for giftedness. The 2013-14 school year is from September 9, 2013 through June 13, 2014. The school's website is http://PrimorisAcademy.org, and they can be contacted directly at (201) 722-1000.