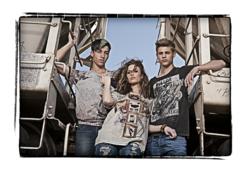 We've really enjoyed working with Neale, and believe that he's a great ambassador for the brand.
Birmingham (PRWEB UK) 22 May 2013
BodyPower is the UK's largest sport and fitness expo, and this year was held on 18th and 19th May. 2013's Expo introduced a new competition titled "The USN Bodypower Classic". Cranwell not only competed in the new competition, but also held his own exhibition stand where fans and admirers could come and meet the bodybuilder, learn about his Gym and also see a range of exclusive printed graphic t-shirt designs from the new Gifted Heroes range.
Gifted Heroes focus on producing clothing for those who want to stand out from the crowd and the brand is a natural choice for Cranwell. Founded in East London's Brick Lane, the brand emphasises individuality and is proud of its young and diverse design team. "It's a fantastic environment," says design director Steve Collier. "There are so many different types of people, all working together and creating a real buzz. We're passionate about what we do." Creations feature bold yet intricate graphic design and a modern edge.
Cranwell could be seen sporting a Gifted Heroes T-shirt as he was presented with his latest trophy. "Attitude is Everything" is the brand's slogan, which is an appropriate mantra for a sport that takes stamina and discipline to be as successful as Cranwell and for someone that works hard to raise the profile of his sport.
Despite suffering paralysis following a motorcycle accident and being told by doctors that he would never compete again, the driven athlete made a full recovery and went on to win two international titles. Since his victories at the WPF Mr. Universe and NAC World Championship competitions, Cranwell has continued to strive for success on the stage whilst growing his gym business.
Cranwell's endorsement serves as a reinforcement of the Gifted Heroes brand values, and exposes their designs to a new market. He has recently been sharing pictures of designs and complimenting the quality of the garments on his Twitter account, praising the brand's t-shirts for being a good fit for the bodybuilder physique, for which clothes aren't always easy to find.
The relationship is also set to pay further dividends as Cranwell's Krunch Gym features in an upcoming BBC documentary. "We've really enjoyed working with Neale, and believe that he's a great ambassador for the brand", says Steve. "We definitely have common values and so we're looking forward to strengthening our relationship."
The full range of Gifted Heroes clothing can be viewed and purchased online via their website