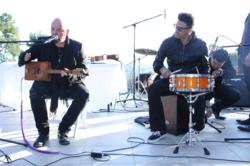 "We're proud to say it was a truly successful event and that not only celebrities, but the brands were able to be a part of the experience and enjoy themselves. - Yvette Morales
Beverly Hills, CA (PRWEB) February 13, 2013
YM & Associates delivered a stellar celebrity-filled event with music, entertainment and high-end gifts to help celebrate the Grammy Awards weekend and promote exclusive high-end products at YM's Grammy Awards Gifting Suite Experience. The event held February 9, 2013 made an impact that impressed celebrities, guests and brands at the Trousdale Estates of Beverly Hills.
The Gifting Suite Experience included performances from Grammy Award-winning new age artist Omar Akram, guitarist Alain Johannes of Foo Fighters' frontman Dave Grohl's "Sound City Players" and Joey Castillo, formerly of "Queens of the Stone Age" and "Them Crooked Vultures". Castillo and Johannes performed a rare collaborative set of acoustic songs, while Akram performed a well-received, live version of songs from his new Grammy-nominated album. Akram went on to receive his first Grammy Award on February 10 at the 55th Grammy Awards ceremony held at the Nokia Theatre. Additional special musical guests in attendance included artists JMParis, Pop Noir, MC Imprint, Jaysin Voxx , Aura, Paul Peress and Ralph Dudley.
"I am very flattered to have received positive reviews from guests and participating luxury companies who attended YM's Grammy Awards Gifting Suite Experience," said Yvette Morales, Founder of YM & Associates. "We're proud to say it was a truly successful event and that not only celebrities, but the brands were able to be a part of the experience and enjoy themselves. This would not have been possible without the unmatched commitment, hard work and diligence of YM's staff and associates that consisted of experienced veteran publicists led by myself and included Kelly K., Kelly Bennet, Deborah Griffin, Maria Arzola and Garrett Thomas," she added.
YM & Associates thanks its sponsors, such as Edge Music Network, a global interactive music network that provides live and on-demand digital broadcast content via a variety of channels, Be-You-T-Full by author Dr. Beth Haney, DNP, a book that educates people on simple cosmetic treatments to look and feel their best, What A Betty, a line of unique vintage style hair accessories, LA Estate Rentals, a high-end luxury property rental company which caters to celebrities, Dr. Pepper providing their newest line of soda products labeled "TEN", a full flavored soda with only 10 calories, ISO Beauty, offering self-expressive luxurious ionic straighteners, The Laura Soares Collection of Brazilian-made swimsuits, Young & Reckless, a streetwear style clothing company, Cartel Ink, a shirt designer, Smile Science, HD-LV Apparel Resources, a hat company, Black Not which provided beautiful handmade jewelry, and 8 Hour Snooze.
Celebrity guests walked the red carpet, received high-end gifts, enjoyed hors d'oeuvres and exquisite wine – a true experience. Guest arrivals included, Frank Stallone brother of Sylvester Stallone, Vicki Gunvalson, Peggy Tanous, and Lynne Curtin of the "Real Housewives of Orange County", D. Woods former member of the girl group Danity Kane, Shawn Stockman from Boyz II Men, Isaac C. Singleton Jr., Jerry Bell, Joey Castillo, Alain Johannes, Omar Akram, Kelsey Scott, JMParis, Pop Noir, MC Imprint, Jaysin Voxx, Carla Gonzales "Ms. America International", Max Ehlrich, Jamie Jones and Delicious Kennedy from the group All-4-One, Brenda Russell, Kelsey Scott, Jus Charlie, John Pattyson, and many others.
YM & Associates is honored to send a special thank you to its Charity of Choice, KSBR (88.5-FM), a commercial-free, non-profit contemporary jazz and community information station serving Orange County from Saddleback College in Mission Viejo, California. They provided a live segment of "Breakfast with Gary and Kelly" at the event and interviewed the brands, celebrities and music artists.
"We were able to accomplish our goal, which was to organize an exclusive event that highlighted Brands' while giving them the attention that they deserve and having everyone in attendance enjoy the experience."
For additional information about the event, please contact Yvette Morales, YM & Associates 949-244-2769 or by e-mail at YMoralesY@YM-PR.com.