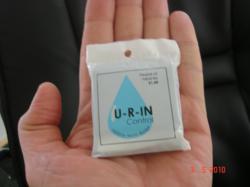 Go Guy wished everyone a very Merry Christmas and happy Holiday.
Pawtucket, RI (PRWEB) December 13, 2011
This Christmas season, gift-givers searching for a unique, functional and remarkably helpful stocking stuffer for the men and boys on their list who struggle with temporary or chronic bladder control issues can call off their search, because the answer to their shopping needs is two words: Go Guy.
Made in the USA by Rhode Island-based U-R-IN Control, Go Guy is an astonishingly tiny pocket urinal that solidifies urine through polymer crystals, and keeps it from spilling thanks to a strong zip-lock top. Each Go Guy package comes with a sanitary wet wipe and a disposal bag, so that users can conveniently and quickly be on their way.
"There are many reasons why Go Guy is the perfect holiday stocking stuffer," commented Ron L. Wierks, Partner of U-R-IN Control."Firstly, it's a fantastic gift for virtually everyone – even for men and boys who don't struggle with bladder control issues that are brought about by post-surgery effects, age or other health and lifestyle issues. Secondly, while Go Guy's benefits are big, it arrives in an incredibly tiny package. So it's perfectly-sized for any stocking. And third, of course, is the price. Go Guy is specifically priced to be affordable to everyone. And when you consider how much it costs to clean the upholstery in the car, or dry clean or replace clothing after an accident, Go Guy is an incredible bargain. And last but not least, Go Guy is ideal gift for those who need to stay on a tight schedule, and can't afford to break for a pit stop – like Santa Claus, as you can see from the video!"
Go Guy is available for $1.49 each at http://www.GoGuy.com. More information, including testimonials from urologists and satisfied customers, is also available on the website.
For more information or media inquiries, contact Ron Wierks at askgoguy(at)gmail(dot)com or (800) 313-0991.
About U-R-IN Control
U-R-IN Control is based in Rhode Island, and is dedicated to creating products that help individuals conveniently and confidently deal with bladder control problems. The company is also in the process of developing a female-version of its popular Go Guy pocket urinal product. For more information visit http://www.GoGuy.com.
###