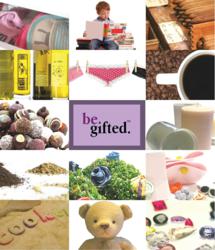 Begifted's service actually helps to educate the gift recipient by introducing them to fantastic new brands
(PRWEB UK) 15 August 2012
Monthly gift subscriptions are rapidly growing in popularity in the UK, with gourmet items and beauty brands dropping on doormats across the country. Now Begifted.co.uk has taken matters to the next level by becoming the UK's first dedicated gift subscription website. Select a gift subscription from their wide range (from candles to cufflinks and lingerie to baby clothes) and their team will deliver gorgeous gifts, beautifully boxed once a month for the duration of the subscription.
When it comes to gift buying there is a tendency to reassure ourselves that it's "the thought" that counts. But what exactly does this mean? Is it the fact that the gift giver remembered to mark the occasion or the anguish that was suffered in pursuit of the perfect gift?
Either way, this defensiveness can arise due to the mind-bending array of choice available, leading to "option paralysis" and making it hard to pick one product that says it all; unique, different and desirable. Subscriptions from Begifted not only solve this problem by curating beautiful gifts but, in doing so, they make giving gifts almost as enjoyable as receiving them.
Greg Vincent, the founder of Begifted, says that an additional benefit of choosing a gift subscription from Begifted comes from its relationships with boutique and artisan manufacturers, providing the buying team with access to fantastic new products that most consumers wouldn't normally find on the high street. Greg says that "Begifted's service actually helps to educate the gift recipient by introducing them to fantastic new brands".
And it's not just with the boutique suppliers where Begifted can add value. In these fiercely competitive times, many larger luxury manufacturers are supplying products to subscription services across a wide range of e-commerce platforms in order to maintain sales without undervaluing their brand in the mainstream market. These savings are then passed on to the customer and, unlike many individual monthly club providers, Begifted always offers free P&P on its entire gift club range.
So, whilst the thought certainly does count, the gift should too and, with a gift subscription, thoughtfulness can now stand up and be counted, month after month.
To discover the range, visit http://www.begifted.co.uk or get in touch at sales(at)begifted(dot)co(dot)uk