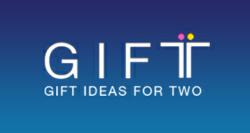 The Only Website which Specialises in Gifts For Two
(PRWEB UK) 17 November 2011
Leading experience gift company Days of Your Life has just launched a new website which is specifically designed to help anyone find the perfect present for two. With a broad selection of products ranging from adult games to matching t-shirts and twinsets for proud parents and their children, it is easy to find a gift which really suits any twosome. Unlike any other gift websites, everything on this dedicated new site is designed for two people to enjoy together, from wedding and anniversary gifts to pamper and spa days for two which are perfect for a mother and daughter to share.
The new site, GiftIdeasForTwo.com, is already attracting the interest of customers who clearly appreciate the simplicity of knowing that every product on the site is perfect for two people to enjoy. There are new products and special offers being added all the time to ensure that the site remains completely up to date with trends in gifting and experiences, bringing customers a one-stop-shop for gifts for any special occasion.
Days of Your Life is well versed in running gifting sites and has been the leading name for gift experiences for nearly 15 years. Their two leading brands, Activity Superstore and Fresh Weekends already dominate the market with a strong presence both online and in some of the country's most popular high street stores such as Boots, Debenhams, WHSmith and Argos. It was this experience which led to their realisation of the potential of a site which specialised in gifts for two as it was clear that many customers wanted to give an experience which could be shared.
As well as a wide range of experiences that are ideal for two people, which include diverse ideas from track days to cookery classes, there are plenty of more traditional Gift Ideas as well such as flowers and chocolates. The emphasis is very much on helping customers to find a gift which really suits the people you are buying for, which is a lot easier when you don't have to check every product to see if it's for one or two people.
With the market already proving it's ready for a site dedicated to Gift Ideas For Two, the launch has come just in time for the busy shopping period which precedes Christmas, meaning that consumers can take advantage of the easy-to-use interface and wide variety of products to take some of the stress out of the most hectic shopping season in the calendar.
###