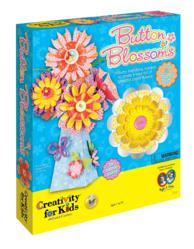 Cleveland, OH (PRWEB) April 27, 2011
Let mom know how special she is with a hand crafted gift from a Creativity for Kids kit. Try one of these projects to craft a gift for mom, or visit our website for more options.
Make some Petite Sweets Soaps for mom to enjoy in her bathroom. This sweet set includes 6 colors of blendable, non-toxic, soft soap clay to design yummy looking candy-shaped soaps. Mold the soap clay into candy shapes, and top with icing swirls, hearts, flowers, and bath salt sparkles. Place the soaps in the candy papers, then arrange in the heart-shaped box, complete with gift tag and ribbon. $19.99, age 5 & up
Make 10 delicate wishing charm necklaces with Best Wishes Jewelry – give the best one to mom for Mother's Day and save the rest for other special occasions. The high quality charms come in 5 designs: heart, peace sign, clover, wishbone, and key. Add the charms along with satin beads to satin cord you can knot a variety of ways for different styles. Write a secret wish on the sheets included, roll up, and seal it with a sticker and then tuck into the sheer gift bag.
$17.99, age 7 & up
Design some cool jewelry with the Ultimate Shrinky Dinks® Jewelry Designer kit. There are 16 sheets of of Shrinky Dinks® film to color in with 8 Faber-Castell EcoPencils. Use the stencils and line art as a guide for designing charms. Then bake in an oven, and turn them into fantastic jewelry pieces with beads, ribbon, colorful gel cord and more. Give the most fantastic pieces to mom for Mother's Day, and save others to wear yourself. $29.99, age 7 & up
The Hearts Desire Jewelry kit lets kids design heart-themed jewelry for mom. Make a beautiful necklace, bracelet, and ring using silver-tone heart charms, lovely pink beads and ribbon to create original jewelry from the heart. $15.99, age 7 & up
Create a lovely bouquet of flowers out of vibrantly patterned paper with the Button Blossoms kit. There are enough paper punch-outs, chenille stems, buttons and glitter accents to make 6 flowers to place in a 7" pop-up vase. You can decorate the vase too. The flowers make a lovely Mother's Day gift that mom will treasure every day. $14.99, age 7 & up
Turn a wood frame with a heart-shaped opening into a fabulous mosaic masterpiece with Mosaic Picture Frame. Decorate the 8" x 8" frame with hundreds of acrylic tiles and glitter grout in any pattern or design you like. Add a photo - then give the frame to mom to show how much you care about her. $17.99, age 7 & up
Make a Mosaic Heart Box for mom to hold her special jewelry items inside the velvet-lined box. Turn a heart-shaped jewelry box into a mosaic masterpiece using prettily colored acrylic stones and craft glue. Add glitter grout for sparkle between the tiles. Then mom can enjoy seeing the unique heart box on her dresser every day. $17.99, age 7 & up
All Creativity for Kids products are fully compliant with current U.S. toy safety standards.
2011 is a milestone year for our company as we celebrate 35 years of Creativity for Kids! We are proud to continually and consistently provide a quality experience in all areas of business, particularly in developing innovative, high quality arts & crafts products for children. Our products are available all over the world, giving children the opportunity to create, pretend, and play in ways that encourage self-expression and build self-esteem.
###