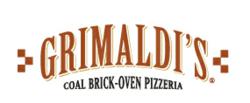 Fort Myers, FL (PRWEB) December 08, 2012
Grimaldi's Pizzeria, famous for its award-winning pizzas and calzones, is celebrating the holiday season with a special gift card promotion. Guests who purchase a $50 gift card receive a $10 gift card courtesy of Grimaldi's Pizzeria.
Gift cards may be purchased in-store or ordered online at http://www.grimaldispizzeria.com. The promotion is valid on gift card purchases in increments of $50 or more per transaction and the offer is not redeemable the same day of purchase.
About Grimaldi's Pizzeria:
In the world of pizza, Grimaldi's is an institution that has garnered more awards than any other pizzeria in the country with more celebrity sightings than most 5-star restaurants. Using only the freshest ingredients, a "secret recipe" pizza sauce, handmade mozzarella cheese and dough, Grimaldi's serves traditional pizza (as it began in Naples, Italy) in an upscale yet casual, family-oriented pizzeria. The intense heat of the oven evenly bakes the pies to create Grimaldi's famous crispy and smoky thin crust that Zagat has voted best pizza year after year.
Media Contacts:
Brittany Maroney
bmaroney(at)grimaldispizzeria(dot)com
480-947-7100
Phyllis Ershowsky
phyllis(at)pkecreative(dot)com
239-565-5996
Alison Drake
Alison(at)ADMarketingTeam(dot)com
239-337-9260