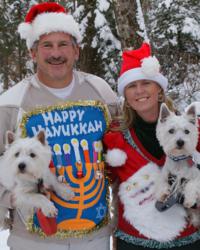 We've had over four million page views so far this year, and the busy season is just ramping up.
Killington, VT (PRWEB) December 07, 2012
The ugly Christmas sweater party phenomenon, which began as a hipster event, has exploded in popularity, and has been embraced by people of all ages from the U.S. and around the world. Anne Marie Blackman is the entrepreneur behind My Ugly Christmas Sweater, Inc., and she sells festive and funny sweaters on her wildly popular ugly Christmas sweater website. With an ever growing customer base that includes both men and women from around the globe, My Ugly Christmas Sweater, Inc. is the leader in this niche industry, and Blackman works year round to keep up with holiday demand.
Blackman says traffic to her popular website is quadruple last year's figures. "We've had over four million page views so far this year, and the busy season is just ramping up. There's a remarkable interest in ugly sweaters for the holidays, and our website is experiencing tremendous traffic volume."
When asked what her secret is to a successful website Blackman points to several factors. "Firstly, we have an awesome selection of funny Christmas sweaters and customers love our products. Secondly, our over-the-top sweaters (many with real working lights!) are really ridiculous, and people come to the site just to see the pictures, which are heavily shared on social media."
Along with creating a great product, Blackman says she spends a great deal of time tweaking her website both to improve user experience and also improve SEO (search engine optimization). Even with a computer science degree under her belt, Blackman hires experts to work on her website. "There is a lot of competition in the ugly Christmas sweater marketplace," says Blackman, "and maintaining our position as the top website in internet searches something that we work at throughout the year."
Blackman enjoys both the technical aspects of running a successful ecommerce company along with the creativity involved in designing ugly Christmas sweater collections that keep her customers coming back year after year. She works from January to November each year embellishing and processing Christmas sweaters so that her storefront is well stocked in time for the holiday crush. "By the time November rolls around, all of our ugly sweaters are processed, embellished, packaged, and ready to ship, "says Blackman. "With such a high volume of sales we need to be organized and ready to go by November first."
The photographs on the My Ugly Christmas Sweater, Inc. website are almost as popular as the sweaters themselves. Customers frequently share their holiday pictures with Blackman, who posts them on her site's 'Photo' page. The popularity of ugly Christmas sweater photographs from the My Ugly Christmas Sweater, Inc. website inspired Blackman to gather her favorites as well as the 'best of the best' on the internet to create a fun holiday book.
Blackman partnered with co-author Brian Clark Howard to produce the holiday humor book Rock Your Ugly Christmas Sweater (Running Press, 2012), which has 200+ photos of people and pets wearing ugly Christmas (and Hanukkah) sweaters, accompanied by funny captions. "These pictures are classic in the world of ugly Christmas sweaters," said Blackman. "They make you laugh just looking at them. The captions are funny, and I think everyone will enjoy the book."
In the spirit of the holiday season, My Ugly Christmas Sweater, Inc. is involved with several fundraisers and donates holiday sweaters and hats to U.S. troops serving overseas. "The service men and women appreciate the gesture and we are happy to help," says Blackman.
With thousands of outrageously funny ugly Christmas sweaters in stock, My Ugly Christmas Sweater, Inc. is the go-to website this holiday season.
To learn more about their ugly Christmas sweaters, visit their store at http://www.MyUglyChristmasSweater.com.