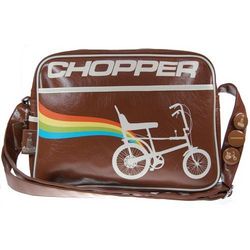 (PRWEB) June 22, 2008
Specialist internet gift shop Dotcomgiftshop.com has announced the launch of its latest Gifts for Him range.
Buying presents for men is easy with Dotcomgiftshop.com as there is a whole section of the website dedicated solely to gifts for him and the range includes a wide selection of items to suit all tastes and budgets.
The gifts for him available from Dotcomgiftshop.com cater for all kinds of men and special occasions.
There are typically laddish gifts on offer, such as an Adult Drinking Games Compendium or, for the morning after, a Hangover Ice Pack. For the thirty or forty-somethings who have never quite grown up there are retro gifts that hark back to yesteryear, such as a Raleigh Chopper Shoulder Bag (with badges and keyring included for the full Seventies effect), or a Jim'll Fix It Soap on a Rope.
On a similarly nostalgic theme, the Sex Pistols 'Anarchy in the UK' and Clash 'London Calling' mug designs will appeal to veterans or fans of the punk era.
For the more practically minded, among the Dotcomgiftshop.com Gifts for Him range is a Blokes' Tool Kit or, back to the drinking theme, a Corkscrew Keyring. Or for those looking for novelty gifts or out-and-out kitsch, there is a USB-powered Office Glitter Rocket Lamp or 'Elvis Lives' glass coasters.
So rather than suffer the inconvenience of gift-hunting in the high street or shopping mall and struggling through crowds, queues and traffic, consumers can now choose the perfect gift for him online, from the comfort of their own home, and have their choice delivered directly to their front door -- all thanks to Dotcomgiftshop.com.
To view the latest Dotcomgiftshop.com Gifts for Him collection, and to see the full range of presents available to buy online, see http://www.dotcomgiftshop.com.
###