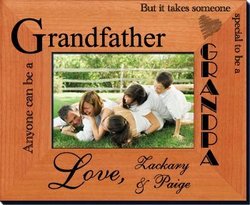 At SeniorStore.com, we are always on the lookout for the newest, most practical gifts for seniors- one that help older men and older women age easily and gracefully
Auburn, NY (Vocus) May 13, 2010
Do you have an older dad or older father that you need a fresh Father's Day gift idea for? Or perhaps a special birthday gift for Dad? Instead of giving him the stereotypical tie or sweater, SeniorStore.com offers these nine gifts for older men and gifts for older dads.
"At SeniorStore.com, we are always on the lookout for the newest, most practical gifts for seniors- one that help older men and older women age easily and gracefully," stated Lisa Klima, owner of SeniorStore.com. "We will always be leaders in the quest to bring the best gifts to seniors to the retail marketplace."
1. Independent Living Aids – Give Dad some useful senior product independent living aids for around the house to help him live as independently as possible. Independent living aids like the universal big button remote, large button phones, lap desks or pill boxes are both handy & appreciated. Manufacturers are heavily involved in creating and adapting their products to assist the baby boomer generation and growing senior market. Make sure you check with a senior's doctor to see if there are physical limitations you should know about before buying a gift for olden men. For example, if the older man you are buying for has low vision problems, you might buy a talking product such as a talking calculator to help him balance his checkbook or do daily budgeting.
2. Games for Seniors - Try games for seniors as a Father's Day gift or a birthday gift for older men. Do they like puzzles? Would they enjoy a jigsaw puzzle with large pieces? Large piece puzzles are ideal because they are designed for adults and are challenging, yet the larger pieces are easier to hang on to and to see as they put the puzzle together. This game for senior shows that you want them to be happily entertained but you are thoughtful about their limitations. Do they spend a lot of time alone? Consider an electronic poker handheld game that they can play when they are by themselves and need something fun to do.
3. Personalized Gifts for Dad or Grandpa - Personalized gifts like a personalized dad frame, dad poem or grandpa poem, are a thoughtful gifts that tell them how you really feel about them. You can add a custom message at the bottom that is your own unique sentiment. Buy a birthday chronicle which has their name at the top of the birthday chronicle, the president that was in office that year declaring their birthday, headlines from their birth year, and other trivia from the like music, films & pricing information. For a small additional charge, you can add a custom message to your father, uncle, brother or any other older man and convey your sentiment.
4. Coffee Mug for Grandpa or Dad – For those beverage drinking dads, buy a coffee mug he will use and enjoy. It can be a grandpa mug, or just a handy mug with a design he would like. Fill the coffee mug with a bag of his favorite brand of ground coffee for a more frugal Father's Day or birthday gift for an older dad. Each time he sips his coffee he will remember your special gift.
5. Origin of Last Name – Is the older man in your family interested in his heritage? Buy a origin of last name print for his Father's Day gift or as a birthday gift for older men. These framed origin of last name prints provide detail about a family's surname like the family motto, the country the name originates from its historic family coat of arms and more detail. Your male senior will enjoy receiving a gift that can someday to interesting and useful to another family member that is interested in family history.
6. Gifts for Grandpa - For the older men in your life that are grandfathers, think about finding gifts for grandpa like a grandpa frame, a grandpa pocket watch or maybe a grandpa hat he can wear to proclaim he is the grandchildren's activity director for all current events. For a more elaborate grandpa gift, try a personalized grandpa frame, where you can customize a frame with a grandpa saying on it with your own personalized message to grandpa.
7. Great Grandpa Gift- Don't forget to buy great grandpa gifts for the great grandpas in your family. Buying a great grandpa gift is hard to do, because there are fewer gift choices, but SeniorStore.com has several great grandpa gifts like a great grandpa brag book or a personalized great grandpa frame. When an older man reaches that age, he doesn't need as many material gifts, but they always appreciate more sentimental great grandpa gift ideas.
8. 50th Wedding Anniversary Gifts – Is the older man in your life about to celebrate a 50th wedding anniversary? Consider buying him 50th wedding anniversary gifts to honor the milestone couple on their special day. SeniorStore.com offers more than 25 different 50th anniversary gifts to choose from.
9. Gifts for Seniors Guide – To help those shopping for seniors more comprehensively, SeniorStore.com has issued a Gifts for Seniors - Gift Ideas for Seniors Guide with articles and tips about what to buy for seniors. There are a variety of articles on every topic from games for seniors to 50th anniversary gifts.
SeniorStore.com is an Internet store that specializes in gifts for seniors gifts for older men and milestone anniversary gifts. They are one of the senior product pioneers on the Web, and have been selling online since 1998.
# # #