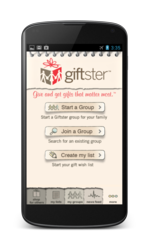 ...has no problems. Works better than web interface. - M. Scott (early review from Google Play store)
Minneapolis St. Paul (PRWEB) June 29, 2013
Android smartphone users now have their own version of Giftster with the release of the Giftster app for Android phones from MyGiftster Corp.
The free Giftster Android app is available now in the Google Play store.
The Giftster for Android app joins the Giftster platform, which already includes the website at giftster.com for computers and tablets, the IOS app for Apple iphones, and the m.giftster.com mobile edition for small screen browsers.
"Since Giftster connects families around gift giving occasions, it is important that everyone in the family, young or old, smartphone or desktop computer equipped, have a way to participate in Giftster" says Ron Reimann, President.
Giftster is positioned as a "lifetime gift registry", as opposed to the more well known wedding registry. The idea is that everyone in the family keeps an actively udpated wish list and gift preferences profile, so whenever a gift giving occasion arises, "check Giftster" is the first thing the gift giver thinks. The result is less anxiety, money well spent, time saved, and a gift recipient thrilled to receive exactly what they wished for. Set it up once and use it for a lifetime.
Some of the features of the Giftster for Android app include:
A combination of wish list, gift registry, family events calendar, and news feed all in one app.
** Invite family members to join a private gift idea sharing group.
** Join an existing group created from the app or the giftster.com website.
** Choice of privacy settings - make lists private, shared only with groups, or public for everyone to see.
** View and reserve gift ideas on each others lists.
** Mark gift ideas reserved or purchased so others don't buy a duplicate gift.
** Shared event calendar for birthdays, anniversaries and important dates.
** The list maker cannot see the status of items on their own lists.
** Adding an item to a list is as simple as jotting an idea on a piece of paper.
** List items can include a link to a specific online retailer page for a picture or to purchase.
** Rank gift ideas with a ★★★★★ 5 star system.
** Giftster instantly synchronizes changes to all devices and the account at giftster.com.
About Giftster
Giftster is fast becoming the standard for a permanent, lifetime gift registry for families and close friends. Giftster is independent of any one retailer, and one member of a group administers the group to maintain privacy and decide who is included or excluded from each group.
Besides holidays, Giftster automatically notifies members about upcoming birthdays. The service is used most heavily around holidays and birthdays, and more recently for showers and wedding registries with the newer "public" list option.
Giftster and "lifetime gift registry" are trademarks of MyGiftster Corporation. Android and Google Play are trademarks of Google Inc. The Android robot is reproduced or modified from work created and shared by Google and used according to terms described in the Creative Commons 3.0 Attribution License.
###