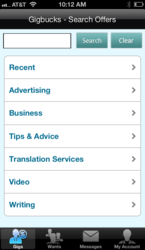 users can post and purchase micro jobs right from their mobile devices
Cyberspace (PRWEB) May 22, 2013
Gigbucks announces the release of a new app for iPhone and Android as an adjunct to its enormously popular micro-jobs website. The Gigbucks Micro Jobs app allows workers and business owners to post and purchase micro jobs (gigs) from mobile phones and hand-held devices. The app provides on-the-go convenience with the same functionality as the Gigbucks website, and it comes with some sweet and useful features.
Gigbucks is an innovative job commerce website that made its Internet debut on June 24, 2010. The platform allows freelancers to offer limited professional services for set fees ranging between $5 and $50. Buyers can select gigs to buy or post requests for services to be fulfilled. The 2013 release of Gigbucks' Micro Jobs app marks a new level of uncompromising service for the company.
Handy features of the Gigbucks Micro Jobs app include fast account registration, easy account management and instant messaging between users. Freelance workers can use the Micro Jobs app anywhere to post services for hire or search for jobs to perform. Buyers can use the app to post job requests, browse available freelance services and purchase specific gigs. Upon the buyers' acceptance of the completed work, the freelancer is compensated securely and quickly via PayPal, AlertPay/Payza or Gigbucks credit.
The types of freelance services that are offered and requested on Gigbucks are practically unlimited. Gigbucks gigs range from social media marketing, video production, gift ideas, transcription services and everything in between. What makes Gigbucks a valuable job resource is that it allows workers to earn significant pay for finite services, and it helps business owners save money on services they require. The recent launch of Gigbucks' Micro Jobs app adds even more value to the mix.
Download: Get the new app on Google play: https://play.google.com/store/apps/details?id=com.gigbucks.ui&feature=search_result#?t=W251bGwsMSwyLDEsImNvbS5naWdidWNrcy51aSJd
or the iTunes app store at: https://itunes.apple.com/us/app/gigbucks-micro-jobs/id648495910?ls=1&mt=8
For more information about Gigbucks, visit our website at: http://Gigbucks.com
About Gigbucks: The Gigbucks website was launched in 2010 as a micro-job software that unites freelance workers with people who need professional services. Gigbucks provides a secure platform for workers to post gigs between $5 and $50 and for buyers to purchase those services at reasonable prices. Gigbucks is dedicated to helping freelancers and business owners find equitable solutions in a competitive job market.