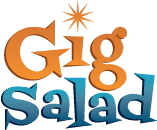 Gig Salad is the absolute BEST and my FAVORITE place for incredible, amazing, colorful, professional entertainers of all types.

Elaina Fish, America's Got Talent casting associate
Springfield, MO (PRWEB) November 14, 2011
From Acrobats in Atlanta to Singers in Springfield, Gig Salad is putting people to work.
The economy is in the tank and unemployment continues to reach record highs, but one company - doing what they love - is putting people to work all across North America.
Gig Salad, a growing online/offline entertainment booking agency with offices in Wilmington, NC and Springfield, MO, is helping to launch the careers of performers and party professionals through their website, GigSalad.com, while giving industry-related businesses a leg up in the race to succeed.
With more than 18,000 active performers throughout the US and Canada, GigSalad.com offers an incredibly diverse online roster that includes everything from Fire Performers to DJs, Elvis Impersonators to Magicians, Motivational Speakers to Wedding Bands, even venue and tent rentals.
In fact, Gig Salad is making so much noise on the web that heavy-hitters like America's Got Talent, MTV, AMEX, McDonald's, Disney, CBS and NBC rank among the many clients who have found and booked entertainment through the website.
"Gig Salad is the absolute BEST and my FAVORITE place for incredible, amazing, colorful, professional entertainers of all types," gushed Elaina Fish, a casting associate with America's Got Talent. "The Gig Salad staff is without doubt, the best and the most accommodating I've come across in the industry."
Gig Salad aims to be "the best place to find and book entertainment, and the best place to get work," and their business model is proving itself every day. For a nominal listing fee (there's even a free option), members are instantly exposed to the huge amount of traffic and leads that come to GigSalad.com daily from event planners looking to hire entertainers for their events.
Even as their overall budgets have been squeezed due to the economic downturn, event planners are still booking entertainment, and Gig Salad is integral in helping planners find the right performers and vendors.
"Gig Salad is the best thing since sliced bread for our business," proclaims Circus Daze, a traveling children's entertainment and circus company in Kernersville, NC — just one of the countless examples of an otherwise obscure specialty business that has opened plenty of doors to their customer base through Gig Salad.
With more traffic and leads coming to Gig Salad than ever before, the key to an entertainer's success can really be just a few clicks away.
If you've got a special talent or an entertaining hobby, it's time to let Gig Salad put you and your business to work too. Visit their website at http://www.gigsalad.com and get your gig on.
###