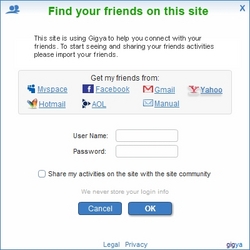 Palo Alto, CA (PRWEB) September 9, 2008
News Facts

Gigya today announced that Socialize, a technology that gives publishers the ability to add social features to their websites, now provides access to the social graph APIs of Facebook and MySpace.
Users of sites that incorporate Gigya Socialize will be able to easily enjoy the social features of those sites in conjunction with their MySpace and Facebook friends, by explicitly approving the websites for third party access to their MySpace and Facebook friend lists.
Gigya socialize allows web publishers to focus on what they do best - developing great content and user experiences - by providing them with a single point of access to multiple social network APIs and webmail services like Gmail, Yahoo! Mail, and MSN Hotmail. Gigya monitors for changes to the social network APIs 24 hours a day, seven days a week, making adjustments on the backend, so that the social experience remains seamless for site owners and their users.
With Gigya Socialize, privacy and control are in the hands of the user. Users provide explicit, opt-in approval for each and every website on which they would like to access their friends via Socialize, a process approved by both MySpace and Facebook. Users also have the ability to actively manage that access, removing or adding approved sites at any time.
Gigya also included a new community feature as part of this latest product release. Users of sites incorporating the new Socialize feature now have the option to share their activities with the larger website community, in addition to their sub-group of friends. This addition enables websites with an already active community to develop social features that facilitate interaction on multiple levels.
Situation Analysis

Social networks like MySpace and Facebook have recently released APIs allowing social graph friend information to be used by third-party websites with user permission. This is positive news for social network users who have been asking for their friend lists to travel with them wherever they go on the web. However, until universal data portability and availability standards are implemented by all parties, Gigya Socialize gives publishers a single point of access to the social network APIs, proving an elegant solution that simplifies the API management process.
Launched in May of 2008, Gigya Socialize enables publishers to add popular social features such as sharing and newsfeed, or create their own specialized features, and then connect the functionality with their users' existing social graphs. Gigya Socialize is unique in that it gives site owners a choice: implement plug and play components or access an open API for complete control.
Gigya Socialize helps website owners grow traffic as well as makes the site experience more compelling for their audience. The technology not only provides the functionality that enables users to invite their friends to join them, but also delivers the features that encourage them to stay longer, explore further and interact more frequently.
With its content sharing and tracking technology reaching over 150 million unique users worldwide, Gigya is already helping web users build aggregated friend lists. Gigya is managing over 50 million contacts, making it quick and easy for users to share content with specified friends. Gigya gives users complete control over their friend lists, from managing who their friends are to designating which sites can access their social graph.
Gigya Quote
"To quote Charlene Li, users' social graphs should be 'like air,' following them wherever they go on the web. The availability of social network APIs is a great step towards breaking out of existing data silos and delivering on this promise for users, but the industry still has not implemented universal portability standards. Gigya Socialize addresses this challenge by providing site publishers with a single point of access to multiple social network APIs, along with the tools they need to easily add social features to their own sites. We believe the future is not about creating new social graphs and networks, but about enabling the broader web community to use existing ones to their fullest potential."
-Rooly Eliezerov, President & Co-Founder of Gigya
About Gigya
Gigya gives people the power to socialize and share content across the web, providing publishers and marketers with powerful tools for increasing audience reach and engagement online. Reaching more than 150 million people each month, Gigya's technology platform includes world-class sharing, analytics and monetization features. The company's APIs simplify access to more than 50 unique web platforms, distributing content across the social web and bringing users' social graphs to any site. Each day, millions of people use Gigya to engage with their friends and with content from Gigya's publisher and advertiser clients such as CNET, DoubleClick, Electronic Arts, Levis, MTV, RockYou, Toyota, Unilever and Walmart.
###