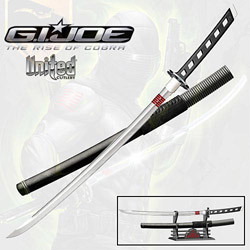 It seems like everyone has loved G.I. Joe for years so we thought we'd give the fans something special
Boston, MA (PRWEB) September 17, 2009
Dungeonknight.com has gone completely G.I. Joe after the release of this summer's blockbuster hit G.I. Joe: The Rise of Cobra. They have decided to celebrate the success of the movie with the release of some new amazing G.I. Joe swords.
Dungeon Knight gives you the option to go G.I. Joe or Cobra and get a great katana sword to show your alliance to your favorite clan. These new G.I. Joe katana replica swords come in two different versions: Snake Eyes or Storm Shadow. Both swords feature a hand forged high carbon steel blade with double fuller grooves, etched emblem, and a leather wrapped grip. They also include a wood scabbard with authentic details, a decorative display stand, and a certificate of authenticity.
These G.I Joe swords were created specifically to celebrate the new 2009 movie. If you are a fan that lives and die G.I. Joe, this is a collectable you'll want to own. Just imagine the reactions on your friends faces when they come over to your house to watch G.I. Joe and having this collectible sitting right next to your movie collection!
The 2009 G.I Joe movie has a star studded cast, many of which will go on to even greater careers. Dennis Quaid is playing General Hawk. Ray Park is playing Snake eyes. Rachel Nichols is playing Shana 'Scarlett' O'Hara. Based on the cast and on the legendary cult following, this movie will remain a classic for many years to come.
"It seems like everyone has loved G.I. Joe for years so we thought we'd give the fans something special," said Mathieu Courchesne. "Dungeon Knight's G.I. Joe swords are the ideal way to celebrate your fandom of their latest movie. Every G.I. Joe enthusiast will want to own one of these authentic movie replicas!"
So get ready to commemorate the summer's best movie - and get the collectible to remember it all by. G.I. Joe fans will love the 2009 G.I. Joe katana swords at Dungeonknight.com!
# # #