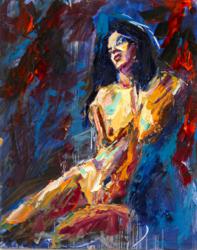 Gilbert Marosi, artist, pioneers a vanguard approach to painting nudes a quotable
(PRWEB) October 18, 2011
There are myriad ways to paint the nude. From the lissome rendering of Boticelli's "birth of Venus" to the wildly geometric Picasso's "Les Demoiselles d'Avignon"
Gilbert Marosi illustrates a radical approach to painting the nude. Most nude artists are slaves to rendering a reasonably accurate representation of their subject. Marosi's intent is to emphasize a three dimensonial approach. As an illustration, take the painting "Faraway."
The clashing color field scream tension, yearning, hope, despair. "Faraway" exudes sexual, animal desire. The abstract background cuts into the nude as if it was a living entity.
Another collection along that vein is Lovelies a la deconstruct
Marosi has spent years painting abstracts. According to Marosi "This demands a skill totally unrelated to that of the figurative artist who is essentially in a cage." To paint an accurate figure the artist must be finely attuned to all the fine nuances of the flesh." "To paint an abstract one must be wild, uninhibited." "The artist must be able to slash his way through a painting, close his eyes and let go." "The result will be apparent if it is good, and if not, the artist must dance, weave, slither through the painting until it, as a living entity, tells the artist it is done."
In the painting "Lost in space," the nude almost steps out of the canvas. On the other hand, the painting "Back nude", paint strokes vary from hot to cold, thereby portraying the ambivalence of the master woman. The abrupt color changes through the painting represent a symphony of human desires.
Another fascinating collection is Nudes, twilight zone
###