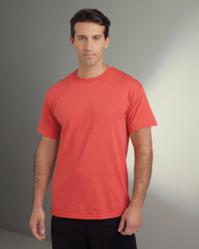 New York, NY (PRWEB) September 01, 2012
Gildan G800 DryBlend™ 5.6 oz. 50/50 T-Shirt, regularly priced at $5.76 is now on sale for $4.89 with no minimum from 9/01/12 thru 9/8 at Crooked Brook.
The G800 is made of 50% preshrunk cotton, 50% polyester; DryBlend® fabric that wicks moisture away from the body, double-needle stitching throughout, taped shoulder-to-shoulder, and a seamless collar.
50/50 T-shirts are built to stand up to a rigorous workload and colors stay brilliant through multiple washings. It is available in sizes S to 5XL, the G800 comes in 35 color choices plus long-sleeve, pocket and youth options.
Sizes: S, M, L, XL, 2XL, 3XL, 4XL, 5XL
About T-Shirts
The t-shirt evolved from undergarments used in the 19th century, through cutting the one-piece "union suit" underwear into separate top and bottom garments, with the top long enough to tuck under the waistband of the bottoms. By the Great Depression, the t-shirt was often the default garment to be worn when doing farm or ranch chores, as well as other times when modesty called for a torso covering but conditions called for lightweight fabrics.
T-shirts, with and without buttons, were adopted by miners and stevedores during the late 19th century as a convenient covering for hot environments.
T-shirts, as a slip-on garment without buttons, originally became popular in the United States when they were issued by the U.S. Navy during or following the Spanish American War. These were a crew-necked, short-sleeved, white cotton undershirt to be worn under a uniform. It became common for sailors and Marines in work parties, the early submarines, and tropical climates to remove their uniform "jacket", wearing (and soiling) only the undershirt.
Named the t-shirt due to the shape of the garment's outline, it soon became popular as a bottom layer of clothing for workers in various industries, including agriculture. The t-shirt was easily fitted, easily cleaned, were made in various colors and patterns and inexpensive, and for this reason it became the shirt of choice for young boys.
Basic t-shirts are staples in the promotional products industry and it is important that vendors understand their client's budget and needs right from the start. A vendor's presentation should always include at least three levels of basic t-shirts so customers can see and feel the differences. 50/50 T-shirts are a great value; their low price and durability from the blend of cotton and polyester make them a customer favorite. However, 100% cotton t-shirts offer the softness and comfort many customers want for their promotional pieces. When looking for a substantial and ultra soft t-shirt, 100% ringspun cotton t-shirts are the way to go.
Although the most popular method of printing t-shirts is screen printing, Crooked Brook t-shirts are printed using Direct To Garment Printing (DTG) which is the process of using inkjet printers to print an image directly onto t-shirts without the use of screens like with screen printing, which requires a lot of setup e.g., creating screens for each color. In addition, DTG printing uses eco-friendly, water soluble ink, unlike some screen printing methods that layer Plastisol (a suspension of PVC particles in a plasticizer) on top of the t-shirt. The only requirement for DTG printing is for the image to be high resolution, resulting in photograph quality printing with no setup fee or minimums for custom t-shirts.
About Crooked Brook
Crooked Brook is a unit of the atelier division of an art studio that offers full service apparel design, pattern making, sample making, private-label small lot production, direct-to garment printing and embroidery. Since 1989, they've built a strong reputation of providing top-notch apparel designs, patterns, fit and production samples for many brand name catalogs and retailers, as well as wardrobe and costumes for movies, television and theater.
All Crooked Brook branded garments and accessories are proudly made to order in the U.S.A.
In addition, Crooked Brook offers:
Chef knives, custom and made to order men's and women's chef coats, casino, spa, resort, hotel, chef and restaurant uniforms as well as alumni chef jackets for the Culinary Institute of America. Custom and made to order men's and women's embroidered lab jackets, uniforms and scrubs for nursing, medical, dental, scientific, engineering, technology & healthcare professionals.
Custom and made to order apparel and accessories for men, women and children, including but not limited to: suits, shirts, Hawaiian shirts, pants, vests, dresses, skirts, gowns, jeans, boxer shorts, martial arts and yoga outfits.
Sewing buttons and fabric by the yard: Ripstop, Organic Cotton Twill, Gabardine, Seersucker, Denim and Supima® Gabardine.
Promotional products, items, decorated apparel and accessories, such as; jackets, hats, fleece jackets, polo shirts, fleece blankets, sweatshirt blankets, shirts, hoodies, golf shirts, t-shirts, tote bags, sweatshirts and aprons that can be customized with the following apparel decorating methods:
Embroidery
Embroidered Patches
Tackle Twill
Appliqué
Direct to Garment Printing (DTG)
Sublimation
With a design studio in New York City, (the fashion and gastronomic capital of the world) and a production facility in Utica, New York, they've garnered international brand name recognition as the maker of the "World's Highest Quality Chef Jackets™".
Crooked Brook ships worldwide. Hours of operations are 7:00 a.m. to 7:00 p.m. EST, seven days a week. Reach them at (315) 733-1992 to learn more.