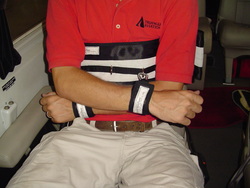 The Airline Passenger Restraint Device far exceeds duct tape and plastic wires when it comes to restraining unruly passengers quickly and safely
The Villages, FL (PRWEB) January 6, 2009
Gillen Industries today announced that it has completed production of the Airline Passenger Restraint Device, a product designed to help the airline industry control unruly passengers.
The device, conceived by Florida inventor John Gillen, uses high-strength materials and an innovative design to help airline employees quickly and safely restrain individuals who pose a danger to themselves or other passengers during a flight. The device offers a vast improvement over present restraint methods.
"The Airline Passenger Restraint Device far exceeds duct tape and plastic wires when it comes to restraining unruly passengers quickly and safely," said Tammy Dickerson of Gillen Industries. "Used along with the plane's seat belt, the device gives peace of mind to crew members and passengers alike.
Gillen Industries, which has extensive experience designing restraint systems for the mental health and law enforcement industries, designed the device to be both safe and quick to deploy.
It is made of heavy duty, rip-stop nylon mesh fabric and reinforced with auto-type seat belt material, giving it superior strength. It restricts upper-body mobility while still allowing for total airflow to help prevent suffocation and heat exhaustion.
The center strap of the device features eight sewn-in "Dee-Rings" that attach to Velcro wrist straps. These rings are placed at intervals to accommodate a variety of arm lengths and body types, and their design enables users to quickly and simply immobilize an unruly passenger's arms and hands. The entire device is easily cleaned with a mild disinfectant solution.
Gillen said the device has received concurrence from the Federal Aviation Administration and the company is in demonstration talks with major airline security departments.
"We hope to quickly get them on the planes so the crew members and passengers can feel safe flying," Gillen said.
About Gillen Industries
A worldwide company located in Central Florida, Gillen designs straight jacket alternatives and patient restraint devices for the mental health and law enforcement industries. Its latest product, the Airline Passenger Restraint Device, is intended to help professionals in the air travel industry restrain unruly passengers.

Auto Type Seat Belt Material
Designed with speed and safety in mind
Restricts upper body movement and arms
Hook and loop closure adjusts to a wide range of anatomies
Can be cleaned conveniently with a mild disinfectant solution
Different Positions for Various Arm Lengths
Velcro for fast Application
Sewn In "Dee" Rings
Contact:
John Gillen, President
877-444-5536
###