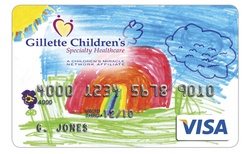 Using the card for everyday purchases is an easy way for parents, families, friends, and our donors to help support Gillette in providing the high quality healthcare we are known for around the world
ST, PAUL, Minn. (PRWEB) September 19, 2008
Gillette Children's Specialty Healthcare and CardPartner, Inc. have joined forces to launch the Gillette Children's Specialty Healthcare Visa credit card (http://www.gillettechildrens.com/creditcard). When a cardholder activates the card for the first time, Gillette receives $50. Then once each month for the life of the program, the not-for-profit hospital receives a check for a portion of every dollar charged to every card in force.
"Using the card for everyday purchases is an easy way for parents, families, friends, and our donors to help support Gillette in providing the high quality healthcare we are known for around the world," said Jon Galloway, vice president of Gillette Children's Foundation.
For cardholders, the Gillette Children's Specialty Healthcare Platinum Visa® credit card credit card is highly competitive:
No annual fee 0% APR on purchases and balance transfers for the first six months Purchase protection Zero liability protection for unauthorized purchases Emergency cash and card replacement Lost/stolen card reporting service 24-hour roadside assistance Warranty manager service Lost luggage replacement About Gillette Children's Specialty Healthcare
Gillette, an independent, not-for-profit hospital and clinics, is internationally recognized for its work in the diagnosis and treatment of children and young adults who have disabilities or complex medical needs, such as cerebral palsy, complex orthopaedic conditions, craniofacial anomalies, neurological conditions, brain and spinal-cord injuries, spina bifida and juvenile arthritis. Gillette provides services to the community in St. Paul, Maple Grove, Burnsville, Minnetonka, Duluth and Willmar.
Since 1897, Gillette has been at the forefront of medical treatment, technology, education and research for children with disabilities. Gillette's mission is to help children, adults and their families improve their health, achieve greater well-being, and enjoy life. To learn more, visit http://www.gillettechidrens.org.
About CardPartner
CardPartner, Inc. (http://www.cardpartner.com) is an online company that specializes in helping smaller U.S.-based membership organizations and charities create custom Visa credit card programs. CardPartner is a unit of the privately held Serverside Group, a technology provider to many of the world's leading banks. Visa credit cards offered through CardPartner are issued by UMB Bank, n.a., headquartered in Kansas City, MO. UMB Bank approves credit decisions, grants credit, and manages the administration and cardholder service for card programs offered by CardPartner.