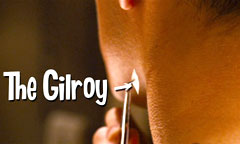 I had made use of The Gilroy patch under my garments in and around the workplace, and it has worked brilliantly! It has got a number of people interested in me romantically, socially, and professionally.
(PRWEB) January 31, 2013
True Pheromones are glad to unveil their latest pheromone product called The Gilroy. This patch contains a huge amount of highly effective human pheromones. This ultimate pheromone patch is filled with 3mg of Androstenol & 1mg of Androsterone and for sale in sheets of 6 square patches.
The Gilroy contains a mix of Alpha and Beta Androstenol and Alpha and Beta Androsterone. Alpha and Beta Androstenol are considered to be ice breaker pheromones simply because they make women feel that men are well mannered, friendly and straight forward to approach and initiate conversation with. On top of that, women feel that men that apply the patch are peaceful, compassionate, supportive, and as a result sexually desirable. When combining Alpha and Beta Androsterone in a mix for men, women get the impression that the user is a relaxed and peaceful alpha male. The pheromones give a feeling of safety, security and reliability. Furthermore, men give off a comforting and enjoyable feeling to those around them. True Pheromone's top researchers have studied the effects of pheromone molecules on cognitive behavior and conclusively determined that pheromones are powerful attractants.
The Gilroy can be applied each and every day and is most effective when applied under the collar of a shirt, to the side of the neck, or the back of the neck. Because of the strong nature and effectiveness of each and every patch, it can even be further split up into smaller sized parts. The size of the parts can be applied depending on a special occasion and how powerful you want to come across to others. The pheromone patch lasts for about 24 hours and is stimulated by body heat. Pheromones will not release from the patch until they are activated by heat of the human body.
True Pheromones has been making and offering Pheromone products for many years. They have delivered to over 20,000 people who are living all over the world. They manufacture each product with the highest level of purity and quality. They are situated in Canada. Their products include a complete refund policy which is applicable for a period of one year. They provide ladies and men pheromone infused products that are found in scented/unscented spray ons or unscented oils.
A delighted client claimed "I had made use of The Gilroy patch under my garments in and around the workplace, and it has worked brilliantly! It has got a number of people interested in me romantically, socially, and professionally."