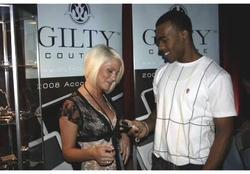 Celebrities need a brand they can trust
Los Angeles, CA (PRWEB) July 1, 2008
Hollywood's brightest stars have a taste for the finer things, like Swarovski crystals that dazzle like they do. Fashion house Gilty Couture is leading the way for celebrity trends and quality jewelry. Gilty Couture showcased their latest accoutrements to top entertainers at the 2008 BET Awards last week. Lucky guests chose Gilty Couture's latest releases to personalize their favorite Apple iPods and iPhones.
The lounge for BET Awards honorees and icons was a prime place to showcase Gilty Couture's signature pieces. Rhianna, Chris Brown, T-Pain, Flo Rida, Fergie, Ne-Yo, Al Green, Rick Ross, Big Boi, Vanessa and Angela Simmons, Maxwell, Mario, Ray J and many more were among special guests who walked away with pieces from Gilty Couture. In addition to honoring the entertainers at the BET Awards, Gilty Couture donated a selection of their fabulous jewelry to the BET Foundation, Educating Young Minds and The Lamp Community, so they can auction the pieces off to further support their organizations.
Gilty Couture's stunning designs are fit to satisfy the limelight's finest, blending flashy extravagance and contemporary glamour with classic and elegant styling from the Gilded Age. But the brand goes beyond ostentation.
"Celebrities need a brand they can trust," says John Hubbs, CEO of Gilty Couture, "We provide more than impeccable pieces and innovative design; Gilty Couture clients know they can depend on consistent, quality service and products that will last."
Gilty Couture's talent and designs compete with the industry elite. The designer's wild imagination and a fearless approach to art results in distinctively striking, captivating creations that are sought around the world. Bold patterns, attention to detail and unique materials set Gilty Couture's style apart from other designers. An intense loyalty to customers and commitment to their vision puts Gilty Couture in a league of their own.
About Gilty Couture:
Gilty Couture designs apparel, fashion and lifestyle accessories. The brand is timely, fun, glamorous, elegant and sexy. Consumers are tired of boring and want a change. Gilty Couture is their answer. With collections that include rare metals and Swarovski crystals, Gilty Couture is sure to please the individual that demands luxury as well as style and function. Learn more at: http://www.giltycouture.com or click here for Gilty Couture images and press materials.
Apple, iPhone and iPod are registered trademarks of Apple Corporation. Swarovski is a registered trademark of Swarovski AG. Gilty Couture and Gilty Couture Wardrobe Box are trademarks of Metallo Design LLC. Other company and product names may be trademarks of their respective owners.
###