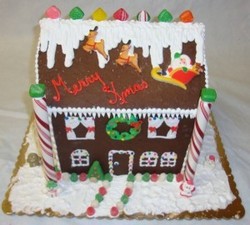 Some of our customers bake the gingerbread for their gingerbread house in the summer. They want to be sure it's all ready to decorate come December
Brick, New Jersey (PRWEB) November 10, 2010
The holidays are coming and The Chocolate Belles, a candy and cakes craft store in New Jersey, encourages family traditions. To help they have tips, classes and gingerbread house making supplies.
Here are 6 tips to making the perfect gingerbread house:
1. Make the gingerbread at least one week ahead.
One of the biggest mistakes people make when baking gingerbread is not letting it harden. If the gingerbread is too soft it won't hold up. "Some of our customers bake the gingerbread for their gingerbread house in the summer. They want to be sure it's all ready to decorate come December," says The Chocolate Belles owner Ann Shortt. Need a good gingerbread house pattern or recipe? See our blog at http://blog.thechocolatebelles.com
2. Let the icing dry completely.
If your icing is soft the walls and roof will slide around when you add candy and decorations. One woman explained how she used shredded wheat to make a thatched roof on her gingerbread house before letting the icing set completely. The extra weight made the house too heavy and it collapsed. Avoid this problem by letting the frosting set for a few hours.
3. Make sure the house is square.
The pieces of gingerbread should be square to start with or your house will be crooked. To help, use a gingerbread house mold, taking care that all walls are an even thickness -- about one fourth of an inch thick.
4. Make a Chocolate House.
Don't like the taste of gingerbread? Consider making a chocolate house instead. They take about half the time and are easier to assemble. Make decorations such as snowmen, or Santa with his sleigh and reindeer with our molds. You can make an entire chocolate village. Our molds come in various sizes up to 24 inches tall – a size that takes 80 lbs. of chocolate to make!
5. Use an icing recipe with meringue powder.
Some recipes for icing call for egg white but they result in an icing that is not as firm or forgiving as one with meringue powder. Choose an icing recipe with meringue powder or buy a pre-made icing mix that just needs water. If you want to make your own, The Chocolate Belles icing recipe is also on our blog at blog.thechocolatebelles.com
6. Sign up for a class.
Part of making a gingerbread house is making memories with your kids. Parents can skip the work and sign up for a class so all of the hard work is done and all you need to do is the fun part. The Chocolate Belles has a popular "Mommy and Me Class" that sells out quickly every year. For $35 and two hours you get all the supplies to make your own gingerbread house. The next class will be held on December 20th. Sign up at http://thechocolatebelles.com/decorating-classes/civicrm/event/info?reset=1&id=10
Watch The Chocolate Belles web site and blog for more classes, supplies and tips for the coming holiday season.
About The Chocolate Belles
The Chocolate Belles is located in Brick, New Jersey and has been family owned and operated for over 29 years. We carry a complete line of candy making and cake decorating supplies. If you're looking for that special candy mold or cake pan, our store is the place to shop. We specialize in custom made cakes for weddings, birthdays, anniversaries etc. We also have candy making and cake decorating classes, including holiday-themed classes.
###