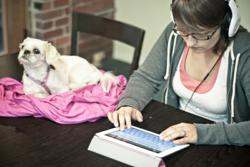 There's got to be a better way to organize and administer a class, and it's going to be Ginkgotree.
Ann Arbor, MI (PRWEB) July 17, 2012
Ginkgotree's online course books platform will allow faculty easier course planning and greater freedom in teaching. Noting personal frustrations as former students and those of their mentors, the team decided to solve the inherent problems with textbooks - excess, expense, inefficiency, and lack of customization.
Educators will find it easy to incorporate any course materials, à la carte, into Ginkgotree's course reader, with built-in copyright clearance. Unlike other university readers, Ginkgotree's will allow any type of digital media to be imported, and their open courseware creator allows for instant updates to the course books. Faculty and students will also benefit from instantaneous shared note taking linked to specific information in the coursepack.
The Ginkgotree team's vision for eLearning is about sustainability and customization, which means an easy, low-cost, and personal solution. Ginkgotree wants to free educators from having to teach to the textbook, and they want to ensure students don't have to buy another $200 textbook ever again. Educators who use their student books web app will spend less time on repetitive tasks such as giving lectures and grading and spend more time on individual instruction. Ginkgotree spokesperson Lida Hasbrouck affirms, "There's got to be a better way to organize and administer a class, and it's going to be Ginkgotree."
Faculty will create their own content and also incorporate open source media, such as pages from a Project Gutenberg book, a Kahn Academy or Youtube video, or part of a Wikipedia article. They'll be able to import copyrighted materials from nearly any source, since all copyrights will be cleared directly in Ginkgotree. Professors and teachers will have the ability to invite editors and instructional designers to their course books and then track any changes made. They'll also have the option of sharing student books with other faculty users.
Students will search content by keyword or any topic tags assigned to text and imported media. Faculty will be able to reorganize modules to automatically change the course syllabus mid-term. Additionally, they'll track each student's progress and interaction with each topic through Ginkgotree's native analytics. Students will see automatically updated content in their course reader view, and they will be able to share their in-app notes with their peers or instructor.
Ginkgotree is a result of a devotion to education and micro business. Scott Hasbrouck, co-founder and CEO of Ginkgotree, Inc., has always had two passions - education and running his own business. He reflects, "When we started we were looking at making a variation of an eTextbook. Ginkgotree has come a long way since then." Colchagoff, Cofounder and CTO sees the need to make college more valuable to students while lowering college course prices, and believes this is "a perfect time for new innovation."
Scott's first "Ramen profitable" startup, PaperDesk. When its success caused him to want to go past a simple iPad note taking app, he headed back home with Lida, his wife, to give Ginkgotree an official start in the Tech Brewery in Ann Arbor, MI.
Early faculty adopters will be the first to have access to the public beta once it's released in November 2012 for Spring 2013 course induction. Ginkgotree's open course ware will be free to faculty, and students will use the course packs for $10/month instead of buying costly textbooks. They will support the flipped classroom by allowing professors and teachers to track their students' progress through each course packet.
For more information about Ginkgotree, visit the Ginkgotree website, or call 734.707.7191.
The Tech Brewery is located at 1327 Jones Dr., Ann Arbor MI 48105.