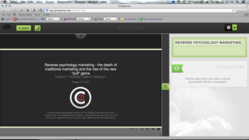 assemble a unified curriculum
Ann Arbor, MI (PRWEB) February 12, 2013
Ginkgotree, the curriculum platform for faculty to build their own online textbook replacement, has been announced as a semifinalist in the challenge.
Ginkgotree hopes to revolutionize education by putting the power of curriculum curation into the hands of the faculty who teach it. As a software as a service (SaaS) tool Ginkgotree allows instructors to gather all of their private, copyrighted, or open educational resources, in one, digital curriculum. Since Ginkgotree is focused on accessibility and low cost, it's free to faculty, and just $25/course (plus any applicable copyright fees) for students.
Professors and teachers can assemble a unified curriculum from a variety of resources, including textbook content, educational videos, and lecture notes, all in Ginkgotree. They handle copyright clearance and digital content sourcing on their end, so instructors can focus on curating and collecting the materials they need. The tool is flexible to fit both the traditional physical classroom as well as the online, hybrid and flipped classroom styles.
Ginkgotree supports the OER movement. The team encourages faculty who are unsure where to find free resources for their course to contact them directly until their search tool is available.
The contest offers 6 cash prizes sponsored by 8 different organizations totaling $120K. First and second prizes from the Milken Family Foundation for best overall business plans are $25K and $15K, respectively. The Startl Prize for Open Educational Resources (OERs) chimes in at another $25K. The Award from the American Public University System Prize for Innovation in Online Education also offers a $25K prize. A $20K award is available under the Educational Services of America Prize for Innovation in the fields of Special Education and At-Risk Students. The Erudient Borderless Education Prize of $10K is intended for plans that consider the needs of students across demographic and geographic lines.
The awards will promote up to 6 startups who will significantly impact higher education through innovative business models. More than one prize can be awarded to each startup, since the fields overlap.
This is the fourth year the Milken-PennGSE Education Business Plan Competition has been held. This year, the semifinalists for the annual competition were notified February 6, and the finalists are to be announced April 8. Following this, the live competition in Philadelphia will be May 7-8. The other NEST semifinalists have yet to be announced publicly.
You can signup for Ginkgotree's curriculum tool or watch their demo video. You can also learn more about the tool, pricing, and team on their site.