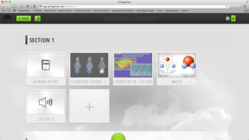 Faculty can import any of the materials they already use, as well as any type of media they desire
Ann Arbor, MI (PRWEB) October 05, 2012
With Ginkgotree's public launch, faculty are now free to take advantage of the full capabilities of digital materials - the customization, inclusion of all media types, flexibility to make instant edits, increased connection between students and their professor and peers, and powerful analytics. As a web app, Ginkgotree is accessible to anyone with an internet connection.
Faculty can import any of the materials they already use, as well as any type of media they desire, including PDFs or copyrighted or open source material, pictures, videos, and audio. For copyrighted material, they can clear the licensing right in Ginkgotree, and see their student's costs immediately. Since the system is targeted at lowering costs for professors and their students, while simultaneously making access to high-quality materials easier than ever, Ginkgotree publicly supports the inclusion of open source and public domain content, while understanding that many educators will want to use the materials they've trusted for years. Hence, all material is welcome.
"If you've ever stood and made photocopies yourself from books and journals and then handed the copies over to your campus's copyright clearance office, unsure of how much students are going to be dinged for copyright fees, you know how much time and hassle this saves."
~ Audrey Watters, Inside Higher Ed Blogger
Once an instructor finishes a coursepack and a new course starts, Professors invite their students to a private link. Students join the course and start learning. From there they can make private notes and topic tags right in the material. Students taking the course can also play a part in the shared learning environment; by making a public note, they can share valuable resources that helped them grasp a concept or ask their classmates and professor questions right in the Ginkgotree course reader. This is aimed at making it easier for students to receive prompt help from their classmates, while professors have the freedom to spend less time answering individual questions. Ginkgotree also wants to make excellent learning tools viral, one class at a time.
Professors can expect several more features by January 2013. A simple grade book will be in place so students have quick access to their scores. Analytics including student interaction measures will allow professors to track which material each student has actually studied, and this feedback will be available to individual students, so they know which content they still need to study. Most unique will be the content optimization feedback, which will show if most students have trouble with a topic, so instructors can choose to add more material on the topic or change out the material all together.
Ginkgotree promises to be right in-line with the future of education. It's already far more than the traditional ebook, and the platform has some big plans for its future. It will soon be coupled with an innovative learning management system (LMS), which means even more analytics. It will also grow into a private learning network, allowing professors to share and sell their custom course materials to other faculty users.
Educators with all types of classrooms have already joined, proving the adaptability of the platform. From K-12 to college, traditional or flipped, blended or online, instructors teaching all course types stand to benefit from Ginkgotree's capabilities.
Since, Ginkgotree hopes to reduce college course prices for everyone who uses a Ginkgotree coursepack instead of a textbook. Ginkgotree is completely free to faculty, and only adds up to $40 per semester for students accessing an unlimited number of classes. The only additional cost to the student is any licensing fees from copyrighted material, which typically ranges from 5¢ to 20¢ per page. A student could very reasonably expect to pay under $100 for their semester of materials if all their professors use Ginkgotree, versus the nearly $600 average spent.
Ginkgotree's founding team of 4 consists of a husband/wife duo which has had success with a digital version of the traditional notebook, Scott and Lida Hasbrouck made the PaperDesk app for the iPad. Cofounder and CTO Andrew Colchagoff has a few years of tech startup experience himself, and Phil Selander, Creative, has quite the design portfolio.
To "Teach Beautifully," as their by-line states, check out the web app.
For more information about Ginkgotree, visit the site or email Lida Hasbrouck.
Ginkgotree is located in the Tech Brewery at 1327 Jones Drive Suite 106, Ann Arbor MI 48105.