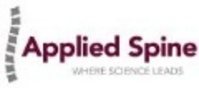 We are extremely pleased to have Dr. Giordano join us, particularly at this time, as we continue to ramp up patient enrollment for our Stabilimax NZ clinical trial at 20 sites across the country
NEW HAVEN, Conn. (PRWEB) February 1, 2008
Most recently, Dr. Giordano was a consultant to medical device companies and private equity investors. Previously, he was a neurosurgeon in clinical, clinical academic, and group community practices since 1998. Dr. Giordano received his degree in medicine from New York University School of Medicine in 1986, and a master's degree in business administration from Yale University School of Management in 2007. He has published research in the peer-reviewed journals Surgical Neurology, Journal of Neurochemistry, Journal of Neuroscience Research, Oncogene and American Journal of Pathology. Dr. Giordano is a captain in the U.S. Naval Reserve and a Certified Navy Diver.
"We are extremely pleased to have Dr. Giordano join us, particularly at this time, as we continue to ramp up patient enrollment for our Stabilimax NZ clinical trial at 20 sites across the country," said Thomas E. Wood, President and CEO of Applied Spine Technologies. "Spine fusion used to be the only option for patients suffering from chronic back pain. Stabilimax NZ is designed to be a dramatic advance in back pain treatment by stabilizing the spine without eliminating motion."
Lumbar Spinal Stenosis is the most common indication for surgery in persons aged over 60 in the United States. It is estimated that as many as 400,000 Americans, most over the age of 60, may already be suffering from the symptoms of LSS (source: American Association of Neurological Surgeons (AANS) and Congress of Neurological Surgeons (CNS)), and this number is expected to grow over the next decade.
For further information, please visit http://www.appliedspine.com.