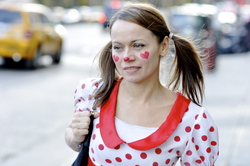 "This is a passion project of mine and I'm so glad there is a platform like Kickstarter where I can go as an indie filmmaker to get funding"
New York, NY (PRWEB) February 5, 2011
NYC-based actress and first-time filmmaker Crystal Scott has launched her first Kickstarter project to help raise funds for the production of her film "Girl Clown". Through the interactive fund-raising website, the California native hopes to raise $7,500 by February 23, 2011. All of the donations will go directly toward the filming of the movie.
Launched in 2009, Kickstarter is an interactive website that allows artists and creative types to raise money for creative projects from individual contributors. However, unless the artist reaches his or her goal, he or she does not receive any of the contributions. Over 800 creative projects have been funded throughout the country via Kickstarter.
Described as a "charming and quirky" romantic comedy with "a whole lot of heart", GIRL CLOWN is the story of a mousy, lovelorn secretary named Laura who attempts to overcome her shyness by becoming a professional clown. The film features a vibrant cast of colorful and crazy characters, like "Dainty Daisy" the Clown Agent
and "Loony Larry" the over-zealous party clown.
"GIRL CLOWN has been a passion project of mine for over 3 years", says Scott, who, in addition to being an actress (she recently made her Cannes Film Festival debut starring in the film THE VENTRILOQUIST), works as children's clown as her day job. "I first got the idea for the film from my own clown experiences. As I would walk through the streets of New York City dressed in my clown outfit, I would see many poker-faced, jaded New Yorkers breaking into smiles and saying 'Hi!', or coming over to chat with me. I thought that I had to make a film about this."
In order to fund the production of the movie, Scott turned to Kickstarter, which is an all-or-nothing endeavor.
The donations are only collected if her goal of $7,500 is met by the February 23rd deadline. Backers receive a range of rewards for donating, starting at $10 for a "real professional clown nose" and credit on the film's website, to $25 for the DVD of the completed film, to $100 to become an honorary associate producer. The rewards for larger donations include featured extra/walk-on roles in the film for $1000+, and honorary Executive Producer status and perks for a donation of $3000 or more.
At the writing of this press release, Scott had accumulated 30% of her goal.
For details on the Girl Clown the film, please visit: https://www.kickstarter.com/projects/601064396/girl-clown-the-film
# # #