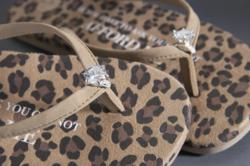 Our customers and the media rave about how our flip flops are super comfortable to wear - Robbie Bernstein, founder of Girl Two Doors Down flip flops
Vancouver, BC (PRWEB) May 06, 2013
Girl Two Doors Down (http://www.gtdd.com), makers of bling bling flip flops loved by Hollywood's hottest celebrities, is offering all stylish moms the opportunity to own a pair of beautiful crystal flip flops at 15% off. Simply use coupon code LOVEMOM which is valid till May 10, 2013 to get your discount and free shipping in the US.
Girl Two Doors Down recently celebrated its eighth year in business and has been sold through more than 700 retail stores, five-star hotels and specialty spas around North America. The company launched its official online store just a year ago so that women all over the world can buy their favorite crystal flip flops no matter where they are based.
Girl Two Doors Down flip flops are cheeky, sexy and are the favorite of many celebrities who have been photographed wearing the company's flat, platform and bridal flip flops.
"Our cute flip-flops are not only stylish and fun, our customers and the media rave about how our flip flops are super comfortable to wear even after long periods of walking," says Girl Two Doors Down founder Robbie Bernstein. "Whether it's a busy mom adding a dash of 'sexy' to her wardrobe or a celebrity mom wearing our flip flops while running errands, style and comfort are my main priority when designing our shoes."
The company's most popular dressy flip flops and bridal flip flops, as well as exclusive, limited editions are available at the official webstore of Girl Two Doors Down.