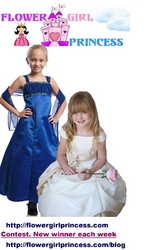 We will be testing the bridal market on-site Saturday August 8, 2009 In Waddington, NY.
Waterbury, CT (PRWEB) July 31, 2009
Possible satellite outlet store to serve Northern New York. Owner - Operator, Jennifer Tynan of
Flowergirlprincess.com tells us "We will be testing the bridal market on-site Saturday August 8, 2009 In Waddington, NY." In an attempt to better serve the North Country population, Flowergirlprincess.com has decided to "take it to the bride and let her decide" stating, "Upstate residents have told us they have unique challenges and barriers when it comes to buying affordable couture styles for their little flower girl princess." According to one resident, some of those challenges include traveling long distances, two or more hours, in snow, ice, and rain.
"Many Upstate residents go to Ontario, Canada for their formal pageant, flower girl dresses or their first Holy Communion dresses because it's closer. I especially like knowing the garments I buy are made in the USA. Where can you find that now?" One sales representitive says, " We spend a lot of time in conversation with some of our customers all over the nation, and we hear in rural areas many people would like to have more choice." Many of the exclusive formal wear styles will be on display at the annual Homecoming event in Waddington. Additionally, the New York region has been hit especially hard in the past several months due to the economic climate according to the customer service live support at Flowergirlprincess.com. Because of this New York residents will be allowed to use a promotion code 'ILove NY' to receive additional discounts. "We know that our presence in Waddington is just a small area when it comes to the Northern New York region. That's why we'd like to make something a little special for all New Yorkers."
Flowergirlprincess.com
formal party gowns, flower girl dresses or gowns for any occasion are made exclusively in the USA.
Contact: Jennifer Tynan 203-651-7921
###