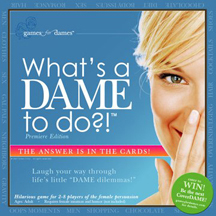 I did a lot of research on this topic when I started Girlfriendology.com
Philadelphia, PA (PRWEB) September 16, 2008
Scientific research has proven that female friendships can make us healthier. A study conducted by the UCLA School of Medicine found that when with our girlfriends, our bodies emit the feel good hormone oxytocin, helping us reduce every day stress. From movies like The Women to businesses like Games for Dames to online communities like Girlfriendology and diva-girl-parties-and-stuff, it is clear that mass media and entrepreneurs understand and benefit from these bonds.
The sisters and co-creators of What's a DAME to do?!® couldn't find a really fun and easy-to-play game for grown-up ladies, so they invented one. Kerri Neubek, co-president of Games for Dames by Sisters 2, Inc. says "We took 'Dame' dilemmas, little everyday predicaments that all women can relate to, and turned them into a great game where we laugh about them, hysterically at times, with our friends." "I think laughter and spending time with our girlfriends has so many health benefits- stress reduction, depression busting and maybe even weight loss, because everyone's laughing so much" she continues.
Online support, entrepreneurial, shopping, mom, and health communities and blogs are abundant, creating additional venues where women can bond. "I did a lot of research on this topic when I started Girlfriendology.com," says founder, Debba Haupert. "This connection between female friends is the glue that holds us together when the world gets tough and often is the consistent relationship when life situations change and people come and go in our life," she claims.
Wendy Legendre, creator of diva-girl-parties-and-stuff.com states, "A girl's night can be as therapeutic as a spa day. Nothing beats the silly, crazy, unrestrained laughter and conversation that ensues when a group of women get together."
As altruistic as the inspiration was, Neubek, Haupert and Legendre all have turned their motivation into full time businesses. "My sister and I were looking for a business we could do together on the side. Since creating What's a DAME to do?!®, I'm at this pretty much full time because of how well it's being received," details Neubek. "Before Girlfriendology.com, I worked in corporate marketing in addition to being an entrepreneur. I did this on the side until earlier this year when I quit to focus on it full-time," says Haupert. Legendre said she created diva-girl-parties-and-stuff.com "as a resource for women to find ideas to connect with each other through fun and celebration." About the success of her business, "My life is extremely busy at the moment to say the least. I'm adding new content to the site everyday."
About What's a Dame to do?!®
What's a Dame to Do?!®, the premiere party game from games for dames® (http://www.gamesfordames.com/)]. The game is based on life's little Dame Dilemmas, dilemmas that all women can relate to and laughing through them with your girlfriends, old or new. It's quick, easy to play, low-tech fun. The game can be played with up to 8 players and is meant for dames 17+. What's a Dame to Do?!® is available at Borders, Amazon.com and gamesfordames.com with a 20% discount until September 23 in celebration of National Women's Friendship Day. De.lico.us page
Facebook page
###