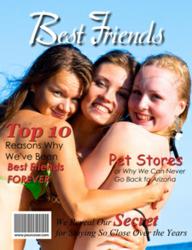 Wilton, CT (PRWEB) July 30, 2012
Early August is the time frame for two special holidays that celebrate women. On Wednesday, August 1 is Girlfriends Day and Sunday, August 5 is Sisters Day. Girlfriends Day is the day when girlfriends honor friendship by getting together to share laughs, celebrate and honor each other. Similarly, Sunday August 5 is the day when women celebrate being or having a sister.
Since these holidays fall within the next few days, there are several ways they can be celebrated without breaking the bank or needing a lot of lead time for creating a special gift. Simple ideas include an evening out to a local restaurant or to a park for picnic. Another idea is to put together a collage of photos, write a poem or a heartfelt letter. For slightly less creative individuals who still want to create a completely personalized Sisters Day gift or Girlfriends Day gift, YourCover offers a custom magazine cover "Best Friends" that is a unique gift for either holiday.
Consumers upload a photo of their sister or friend to the "Best Friends" magazine cover template at YourCover.com. After uploading, each headline is personalized with the sister's/friend's name as well as with special memories, funny stories and inside jokes. Each personalized magazine cover is as unique as the woman starring on the front.
With these two holidays falling within the next few days, a last minute gift is mandatory, YourCover's magazine covers solve this problem as they are available instantly as photo file downloads for self-printing. Placed in a frame, this gift will delight and thrill the recipient on their special holiday and for years to come. In addition to the Best Friends cover, YourCover, which has been providing personalized magazine cover services since 2000, also offers the titles of Celebrity and Diva as well as over 80 more magazine cover templates for every holiday, event or interest.