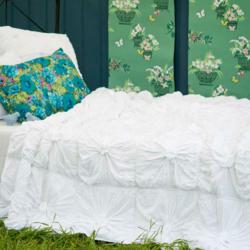 College girls continue to become more sophisticated in their style and taste which translates into a college decorating philosophy that is more eclectic and mature
Atlanta, GA (PRWEB) June 30, 2012
Deck My Dorm, a leading girls dorm bedding and girls dorm decor e-commerce boutique retailer, continues to expand its girls bedding and accessory offerings with new products that emphasize a more sophisticated girls college decorating style.
In addition to its line of girls custom dorm bedding, Deck My Dorm also offers a large selection of vintage-inspired bedding, shabby-chic bedding, boho-chic bedding and velvet bedding separates for girls dorm beds as well as full and queen beds for girls living in apartment-style dorms or off-campus housing.
"We added organic bedding from LazyBones including the top-selling LazyBones Rosette comforter in numerous colors to Deck My Dorm earlier this year and sales for this type of shabby-chic bedding separates have far exceeded our expectations," said Deck My Dorm Co-founder, Jennifer Cook.
"There continues to be a large market for girls dorm bedding sets, but the demand in the market for vintage-inspired, shabby-chic bedding, layered to create a unique bedding ensemble, is rapidly expanding. Girls are combining quilts, coverlets and duvets that are not specifically designed for dorm beds and layering these bedding separates with decorative shams, throws and accent pillows to create a bedding ensemble reflective of their own unique personalities," explains Deck My Dorm Co-founder, Jana Contardi.
"College attendance continues to rise and college decorating budgets continue to tighten so more and more college girls are choosing to live in off-campus housing and thinking beyond two semesters when selecting bedding and accessory items," adds Cook.
In addition to a wide selection of girls dorm bedding, Deck My Dorm offers a long list of girls college dorm decorating essentials from top manufacturer's such as Rhino Armour Trunk and Case, Papaya Art Panels and Karma Living just to name a few.
Deck My Dorm is a division of My Royal Sister and Peace, Love and Decorating. Girls dorm bedding and girls dorm decor from Deck My Dorm's website or through My Royal Sister located at 3129 Main Street, Suite B, Duluth, Georgia 30096.