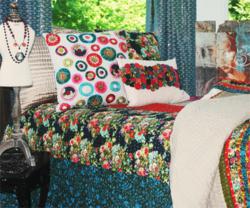 Dorm room living quarters are high-tech, multi-purpose spaces commonly divided into separate areas for sleeping, eating, studying and hosting friends. As a result, college dorm decorating has continued to become more sophisticated
Atlanta, GA (PRWEB) July 13, 2011
Deck My Dorm continues to stay on the cutting edge of girls college decorating by expanding its line of college dorm decor. Additions to the Deck My Dorm product line include new girls dorm bedding options, increased dorm decor selections and college decorating essentials.
Building on over ten years of interior design experience, Deck My Dorm Co-founders, Jennifer Cook and Jana Contardi, focus on a college decorating philosophy that reflects the same successful design principals: create a comfortable, layered space that reflects the personality and style of the occupant. Cook and Contardi excel at selecting affordable, current accessories and decor that can easily make the transition from dorm room to apartment.
"Girls college dorm decorating continues to become more sophisticated. Dorm room living quarters are high-tech, multi-purpose spaces commonly divided into separate areas for sleeping, eating, studying and hosting friends. Deck My Dorm's dorm decorating checklist addresses these multi-functional spaces while allowing the college girl to express her individual style," explains Cook.
Dorm bedding is still the cornerstone for girls college dorm room design. With girls dorm bedding selections for every taste and budget, Deck My Dorm bedding options range from create your own dorm bedding to additional color choices in best-selling dorm bedding collections to mix-and-match bedding to vintage-inspired quilts. New 2011 dorm bedding options focus on allowing girls to design their own dorm bedding and expanding girls bedding to include full/queen size bedding in addition to twin extra long. Cook and Contardi have also increased Deck My Dorm's selection of throws and decorative accent pillows from trendy suppliers such as Karma Living to focus on Boho-Chic bedding that combines several styles and colors together.
Deck My Dorm features an extensive selection of budget-friendly decorating items including wall decor, decorating accessories and trendy lighting. "Deck My Dorm is not just for dorm decorating. Our goal is to help girls create a personalized and trendy dorm space with affordable items they love and will continue to use to decorate future living spaces," says Contardi.
Like any successful decorating project, dorm art and wall decor add style and reflect an individual's personality. Deck My Dorm's selection of light-weight wall decor for dorm room or college apartment walls brings the feeling of high-end style without compromising college budgets. Art Panels from Papaya Art hang from a decorative ribbon and feature vintage-inspired artwork and inspirational quotes. Peel and stick wall decals from Die Cuts With A View (DCWV) offer bold black and white designs that adhere to walls without damage. Custom bulletin boards like the large Chandelier Bulletin Board are smart picks and add function and style when leaned against a wall.
Cook and Contardi feel the best girls college decorating essentials serve a functional purpose while adding to the design scheme. The Rhino Armor Trunk is the perfect example. College storage trunks perform double duty as a dorm coffee table in front of a futon while adding essential storage in a small college living space. Dorm window coverings not only add style but offer privacy and light control.
New college essentials focus on cute school and desk supplies. Cord management is smartly handled by the ElectroMan Surge Protector. The Aphrodite Multi-port USB hub offers stylish function to a desk space. These are just a few of the wide range of school supplies and desk accessories available from Deck My Dorm.
Rounding out the checklist for college dorm essentials is the personalized laundry bag, fun lap desk, and necessary dorm area rug for those cold dorm floors.
In addition to Deck My Dorm, Cook and Contardi are also the founders of Peace, Love & Decorating and College-Style. Peace, Love & Decorating is an online boutique specializing in designer home lighting, vintage-inspired home decor and high-end fashion jewelry and accessories. College-Style is dedicated to college fashion and college life and is written by college students for their peers.
###