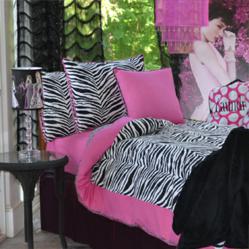 We now offer our top-selling dorm bedding sets 'We'll Always Have Paris', 'Audrey' and 'Mademoiselle' in additional color choices
Atlanta, GA (PRWEB) June 14, 2011
Deck My Dorm has expanded its girls dorm bedding offerings with the release of new dorm bedding collections in the Deck My Dorm custom bedding line. It has also added new vintage-inspired dorm bedding options and the opportunity for girls to design and create their own dorm bedding from designer fabric selections. Deck My Dorm's new bedding collections include zebra print dorm bedding sets as well as new color options in the best selling "We'll Always Have Paris" college bedding set. Designer bedding sets are accented by a wide selection of girls dorm decor for fashionable and affordable dorm decorating options.
"The selections for college dorm decorating and teen girl decor continue to be limited, low quality and mass-produced at other retailers," explained Atlanta-based interior designer and Deck My Dorm Co-founder, Jana Contardi. "At Deck My Dorm, we strive to offer affordable alternatives with our unique dorm decor that helps college girls decorate their living space to reflect their own personal taste and unique style."
Deck My Dorm's own label of custom dorm bedding as well as its new line of create your own dorm bedding are fabricated in its Atlanta workroom with attention to quality and detail while still maintaining a budget-friendly price point. Dorm bedding sets include a duvet cover and pillow sham with options to add decorative throw pillows. Most bedding sets are available in twin extra-long and full/queen. The extensive dorm decor options include dorm wall decor, organization and storage items and girls college essentials. The site also includes dorm decorating tips and ideas.
In addition to Deck My Dorm, Cook and Contardi brought their second e-commerce site, Peace, Love & Decorating, online in the fall of 2010. Peace, Love & Decorating (PLD) specializes in designer home lighting, unique home decor, vintage-inspired fashion jewelry and accessories, high-end holiday decorations, teen bedding and decorating options for girls. PLD is geared towards the boutique shopper looking for specialty designer lines for home, jewelry and fashion, Cook explained.
"We are adding new items and new boutique product lines daily to Peace, Love & Decorating," Cook said. "We want PLD to feature the home and accessory lines we love."
A small sampling of the Peace, Love & Decorating product line includes items from manufacturers such as Currey & Company Home Lighting, Christopher Radko Holiday Ornaments, Papaya Art, Be-Je Jewelry and Leatherock Belts.
The complete line of dorm bedding and decor available at Deck My Dorm includes girls bedding, vintage-inspired wall art, over-sized bulletin boards, affordable window coverings, unique dorm lighting, Rhino Armor trunks for college storage, dorm organization items, personalized laundry bags, as well as unique college essentials including U.S.B. hubs, college fashion accessories and a wide range of cute desk accessories.
Deck My Dorm co-founders Jennifer Cook and Jana Contardi also started the College Style Blog written and edited by college students as a forum for students to comment on all aspects of college life with an emphasis on college style and fashion.
###